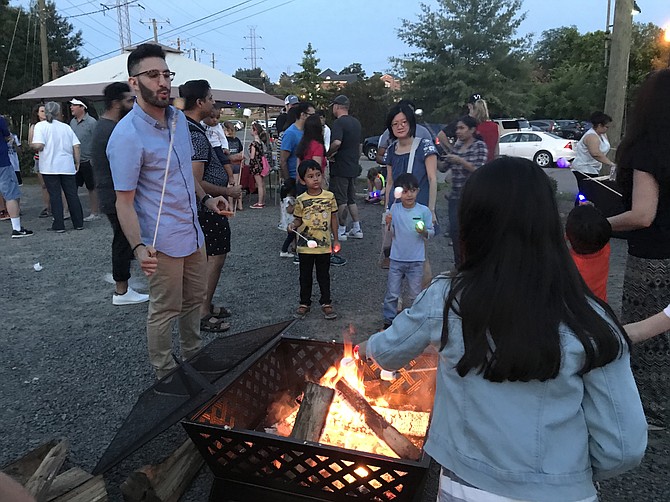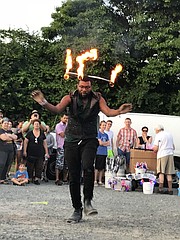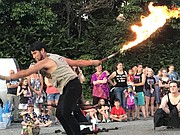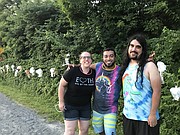 A lazy summer evening offered the perfect opportunity for Arts Herndon to launch its 2018 Light Festival. The free family-friendly event held outdoors and indoors at ArtSpace Herndon, 750 Center Street on Saturday, June 16, 7 - 10 p.m. featured work by light artists Stephanie Wright, Stephen Vides-Sanchez and Kendall Hobson of Eye of the Heart @ eotherize.com. One such work was entitled, "Jellyfish in the Ecosystem." The trio installed it specifically for the 2018 Light Festival.
Hobson also created a sound-light booth that dazzled spectators at the festival as strings of lights synchronized perfectly to the beat of a favorite children's song and retro video game show tracks.
As the sun dipped beneath the horizon, areas in and around ArtSpace Herndon glowed with performances by renowned flame spinners and jugglers David Nghiem and Rikke Kalfani, flow artists and members of the Revolutionary Motion Fire Conclave based in the District of Columbia.
If that was not enough, guests could make S'Mores over a fire pit, play glow-in-the-dark games, purchase icy treats or settle in at the pop-up beer garden roped off in the parking lot.
As Elysa Birman of Greater Herndon stood and watched the flow artists toss their fiery batons in the air, she said, "I'm so impressed with the performances of the people who are here tonight."
Eye of the Heart @ eotherize.com powered the 2018 Light Festival for Arts Herndon. They are listed on their website as a charity organization created to bring businesses, community, and non-profits together. A portion of their proceeds goes to charity.
Jason DiMambro, Co-Executive Director of Arts Herndon, said, "We are amazed at how our inaugural Light Festival kicked off with over 300 people from around the DMV. We have to thank our partner Eye of the Heart for their efforts powering this event and the Virginia Commission for the Arts for its funding."