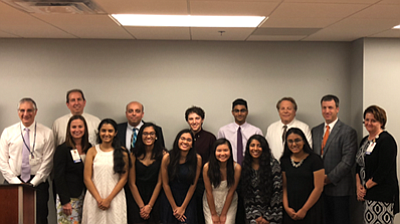 In a recent ceremony, the medical staff of Reston Hospital Center (RHC) awarded scholarships to seventeen seniors from area high schools. Among the honored recipients were two members of the Herndon High School Class 2018 and two members of the South Lakes High School Class of 2018. The students received the scholarships in recognition of their academic excellence and excitement for pursuing a career in healthcare.
Local recipients of the RHC Medical Staff scholarships are Yousef Hassan Elgodamy – Herndon High School; Minnie Suki Nguyen – Herndon High School; Aishwarya Jadhav – South Lakes High School; and Ruma S. Jadhav – South Lakes High School.
According to a spokesperson at RHC, the medical staff offers $15,000 in scholarships, and has awarded more than $265,000 in scholarships over the past twenty years,
Dr. Avisesh Sahgal, President of Reston Hospital Center's Medical Staff, said, "This is one of the medical staff's favorite projects every year. We are thrilled to be able to support these young adults as they venture into the world in search of their dream careers. It is our pleasure to get to know such passionate and driven students from our local community as they work towards becoming the future of healthcare."
Reston Hospital Center named thirteen other Class of 2018 scholarship winners from high schools in Fairfax and Loudoun counties. They are:
Natalie Rothrock – Briar Woods High School; Jakob Cohen – Broad Run High School; Ria Grover – Centreville High School;
Amara Novotny – Chantilly High School; Arman Daneshpayeh – Chantilly High School; Agota Banks – Dominion High School; Pranavi Palliniti – Dominion High School; Katherine Elizabeth Priester – James Madison High School; Yusuf Masser Bade – Langley High School; Shreya Dalal – Oakton High School; Khanh Nguyen – Park View High School; Ashlin Rain Murphy – Potomac Falls High School; Tashfia Anaan Emdad – Potomac Falls High School.