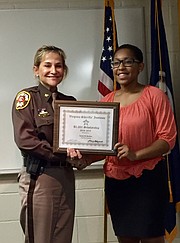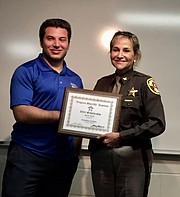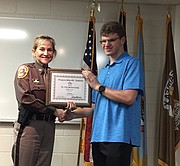 Sheriff Stacey A. Kincaid awarded four college scholarships to Virginia college students who are residents in her jurisdiction and pursuing an educational curriculum in law enforcement or criminal justice. The Virginia Sheriffs' Institute (VSI) sponsored the scholarships awarded to 71 students across Virginia, $1,000 for full-time students and $500 for part-time students. Sheriff Kincaid is a member of the VSI and participated in the fundraising efforts.
Three of the award recipients are from Fairfax County high schools. They are Sesaly Barden, a graduate of South Lakes High School in Reston and a rising junior at Mary Baldwin University, Jessica Miller, a graduate of Mount Vernon High School in Alexandria and a rising junior at Old Dominion University, and Maximillian Kavaljian, a graduate of Fairfax High School and a senior at Christopher Newport University. Jack Katz is the fourth recipient. Katz is a student at George Mason University in Fairfax where he resides.
AS PART OF THE APPLICATION PROCESS, Sheriff Kincaid submitted a letter of recommendation on student's behalf and provide information about their school and extracurricular activities and achievements to VSI. "I spoke with each applicant to learn more about their activities and long-term goals," said Kincaid. "It's wonderful to meet young people who are academically accomplished, participate in extracurricular activities, work part-time, and give back in many ways to their communities."
Sesaly is a member of the Virginia Institute for Leadership, an all-female ROTC program, where she joined the Drill Team, the Conduct Committee and the Color Guard. Through this program, she will graduate with a minor in Leadership along with her major in Criminal Justice. Sesaly says her studies give her "the opportunity to be a part of my community and lead change in an era where personal values are changing."
Miller's major is Criminal Justice with a minor in Sociology… [She] wants to pursue a career in law enforcement, following in the footsteps of her father, a retired police officer. She has successfully balanced academics with her athletic pursuits and service to the community. In a letter to Sheriff Kincaid, she wrote, "I aspire to make a difference in the world of law enforcement and set examples in our community just as you did."
Maximillian Kavaljian is majoring in Sociology with a concentration in Criminology. He plans to pursue a career in government security. Max interned for a year with the Newport News Sheriff's Office, assisting in a program that helps inmates with substance use disorders. He played football for Christopher Newport and holds a leadership role in a campus organization. In addition to working during summer breaks, he has "traveled around the world many times and experienced diverse cultures."
Katz is a member of the George Mason Cycling Club and plays Alto Sax in the Green Machine pep band. This year Jack interned with the Sheriff's Office, shadowing deputies and learning about agency operations in the Adult Detention Center, Courthouse and the Merrifield Crisis Response Center. Jack wants to give back to the community and said, "I cannot think of a better way to do so than going into law enforcement."
FOR MORE INFORMATION about 2019-20 Virginia Sheriffs' Institute scholarship application, visit https://vasheriffsinstitute.org/scholarship-policies/.