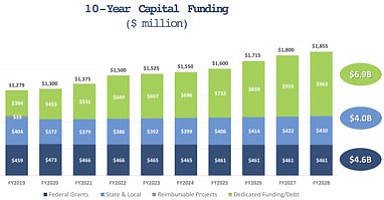 Alexandria — Metro plans to address deferred maintenance with its upcoming capital infusion, but will continue to face operating and labor challenges.
This year the Washington Metropolitan Area Transit Authority (WMATA) received commitments for dedicated funding, including $154 million per year from Virginia. This will help WMATA "catch up" on deferred maintenance, though not to tackle "new projects," General Manager Paul Wiedefeld told the Washington Metropolitan Council of Governments (MWCOG) on Wednesday, June 13. That's if local jurisdictions and the feds also keep up their contributions.
But WMATA will still face an operating budget crunch.
Whereas subsidies from the local jurisdictions have increased by about eight percent annually over the past 10 years, WMATA has now committed to capping that growth to three percent.
"We will not lose sight of the commitment we made on the operating subsidy growth, capping it at 3 percent." That amounts to "roughly $29 million for FY19," which still "requires me to come up with another $38 million internally," said Wiedefeld.
He says WMATA will seek to generate new revenues by attracting increased ridership with high quality service, as well as through "parking and TOD [transit oriented development] and advertising."
TOD means tapping into the value of WMATA-owned properties.
WMATA will also seek to curtail expenses, such as labor costs.
"We will competitive outsource when those opportunities present themselves," said Wiedefeld. He also suggests "a defined contribution pension plan versus a defined benefits plan" for workers. "We have to address that, as other public entities have and as the business community has."
But ATU Local 689, a region-wide transit workers' union, "finds the 3 percent operating cap to be arbitrary," said David Stephen, a union spokesman, in an email. "The union continues to be concerned about how the cap will limit Metro's ability to respond to the real-time needs of the system. Local 689 will never support a cap that hinders Metro's ability to grow."
ATU also opposes privatization of Metro jobs. According to its web site, "private companies often pay their workers less and cut corners on maintenance and safety. … Adding a profit motive to a public service puts the public — especially the poor, seniors and disabled — at risk of losing services that they need because they won't make the private company money."
Furthermore, the union believes "an individual employee should not bear the risk of retirement funds to a company they have devoted their careers to," said Stephen.
ATU's proposals for Metro funding, outlined in its plan entitled "Fund It, Fix It, Make It Fair," include special assessment districts around transit; a flat rather than distance-based fare system, the latter of which ATU says only a fifth of rail transit systems nationwide employ; and a fare system that takes into account ability to pay, along the lines of San Francisco's.
MWCOG's Department of Transportation Planning hasn't evaluated ATU's specific proposals. Nor has it studied similar issues relating to privatization and pensions in other arenas, such as in local governments or transit companies, according to spokesperson Jeanne Saddler.