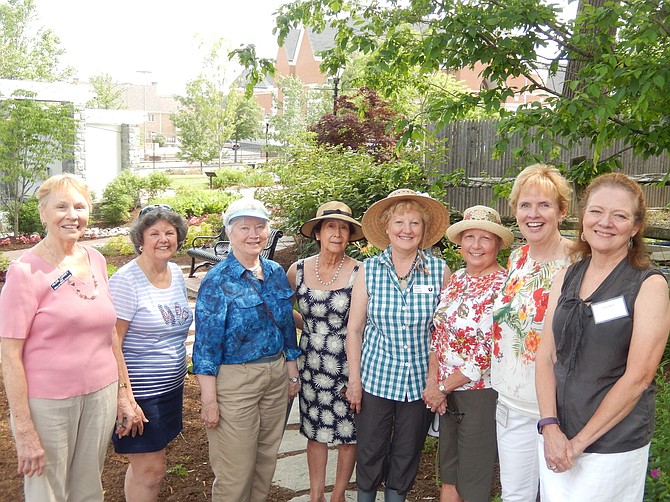 "Kitty liked the colors, pink, red, white and yellow, and we've tried copying that in our garden, as a true memorial to her." —Hildie Carney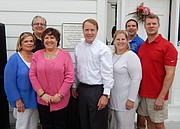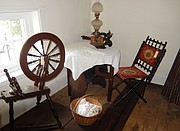 People have to be pretty special to have a day named after them – and in the City of Fairfax, Kitty Pozer was definitely held in high regard. So June 9 was officially Kitty Pozer Day in the City, complete with a dedication of her garden, tours of her historic home and activities for children.
"To have a garden like this in a historical site is a gift," said Fairfax Mayor David Meyer to those gathered in front of Pozer's former home, now called the Ratcliffe-Allison-Pozer House. Tucked between Old Town Hall and Old Town Square, it's 206 years old and was the first house in the City.
"That it's still preserved is remarkable, and it's a brick building because of Kitty Pozer," said Meyer. "She bequeathed it to the City of Fairfax, which spurred historic preservation in the City. And once the City decided to build Old Town Square, keeping this building was the top priority in our planning."
Born in Kentucky, Pozer and her husband Charles, a Canadian civil engineer, married in the early 1900s. While he served overseas with the Canadian Army during World War I, she drove an ambulance in England and France for the Canadian Ambulance Corps.
They moved to Virginia in the early 1920s and purchased what was originally called Earl's Ordinary – and, later, the Ratcliffe-Allison House – a restored inn and stagecoach stop in the City of Fairfax. In 1938, Kitty was a founding member of the Garden Club of Fairfax and its first vice president.
She was also instrumental in restoring Old Town Hall. Her husband died in 1947, but she continued living in their home until 1979, two years before her death at age 93. She donated the house and its historic contents to the City to be used as a museum.
DURING HER YEARS IN FAIRFAX, Pozer was an avid gardener and wrote a gardening column for the Washington Post for nearly 25 years. In 1968, her close friend, GMU professor Ted McCord, took color slides of her garden – and these slides later helped others restore it. Both Historic Fairfax City Inc. and the Fairfax Ferns Garden Club – the oldest garden club in the City – made sure the garden was preserved.
Club Chairman Hildie Carney managed its preservation, along with Co-Chair Karin Rindal, a horticulturalist who was primarily responsible for the garden's design. At the recent, garden-dedication ceremony, Carney told the gathering, "What you see here today is three years of work – research, design, planting and lots and lots of weeding."
When the Pozers moved into their Fairfax home in 1927, said Carney, "The property extended from Main Street to North Street. And, at one time, it was all Kitty's garden. She planted flower beds which were the envy of everyone. So when the idea surfaced to create a garden in her honor, the object was to create a living memorial honoring her gardening passion, plant tastes and horticultural expertise."
The plan was to plant the flowers, trees and shrubs that Pozer might have had in her original garden. They included peonies, daylilies, cannas and irises. "Kitty liked the colors, pink, red, white and yellow, and we've tried copying that in our garden, as a true memorial to her," said Carney. "We dug up as many of her original plants as we could, and then saved and nurtured them."
She said Rindal "worked hard to find nurseries that sold heirloom flowers. Most varieties [in this garden] are from the 1930s and '40s." The garden club also focused on selecting plants that flowered at different time periods to stay as true as possible to Pozer's proud catchphrase, "I can always show you a flower in bloom."
"When she could no longer care for the garden herself, Kitty instructed two City residents how to do it, and she'd documented which plants were where," said Carney. "She willed the house to the City and lived in it until she was 91." Carney then thanked Fairfax Parks and Rec Director Cathy Salgado, "who loaned her crew to us when we needed help planting things in the garden." Carney also invited people to come visit the garden often.
"It's meant to be a peaceful, contemplative, educational resource for people," said Rindal. "It's also a pollinator habitat, so we have birdbaths and plants encouraging butterflies to visit the garden."
THE HISTORIC HOME is open for tours, May through October, on Saturdays, from 11 a.m.-2 p.m. The garden is next to Old Town Square; visitors are asked to walk on the path and leave the flowers for others to enjoy.