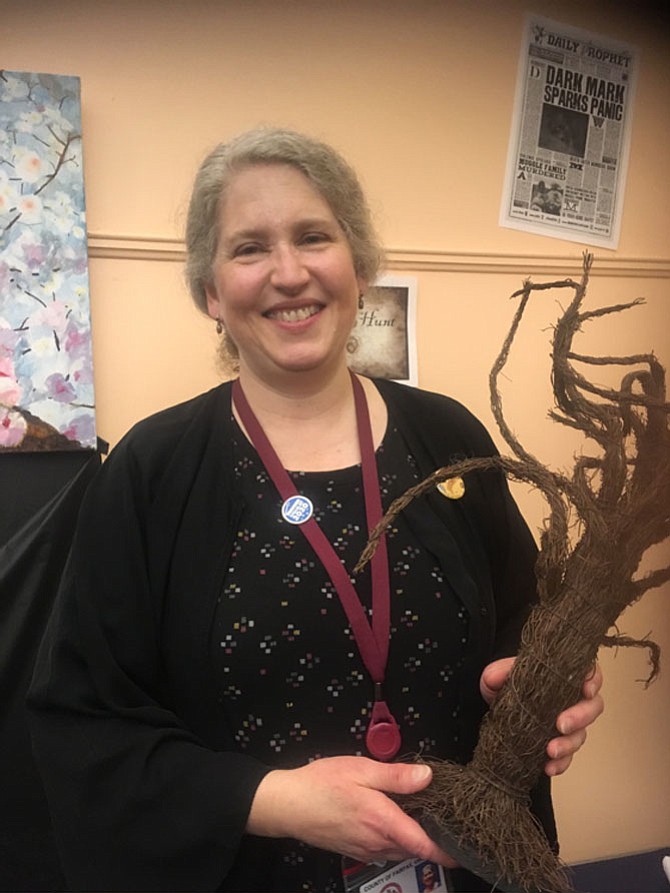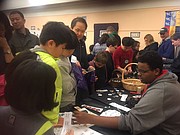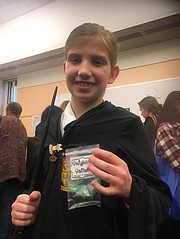 At the Kings Park Library in Burke, Audrey Husemann, 9, of Fairfax held her Harry Potter polyjuice potion in hand, with a firm fantasy belief that it was the real thing, even though the whole library was captivated in a fun, imaginary world of the Hogwarts on Harry Potter day. The potion was used to turn into someone else.
To use the potion, "add a hair from someone you want to turn into and drink it," she said. It was that simple, and the library was full of theories to work the imagination on Saturday, Feb. 24 as Harry Potter fans packed the side hall and part of the library apart from the book area. Laura Damian, a library aide at Kings Park, was fully aware of the Harry Potter phenomenon and appreciated the way the series has popularized reading at that age. The books are "a perennial favorite," she said, "it's always dicey if there's one on the shelf because they are constantly circulating, whatever pulls them in is great," she added.
And it did pull them in that day, in costume or not, to celebrate the Harry Potter series by J.K. Rowling that has been a fantasy favorite in the last 20 years. Rowling has capitalized on character development in the series, and the readers have grown to identify with a character based on traits they have or liked to have.
Damian liked Hermione the best, while Audrey, 9, likes to identify with Ginny Weasley, who is described as "the youngest Weasley child. Brave, tenacious and an accomplished Quidditch player," according to the Harry Potter website. Quidditch is a wizarding sport played on broomsticks in the Harry Potter world. "She's fun and adventurous," Audrey said.
Sarah Husemann, Audrey's mother, likes her daughter's attraction to the books. "It brings their imaginations to life, she and I take turns reading together," she said.
Ryan Hall, 10, is on the seventh book, "The Deathly Hallows." "I like the part where Lord Voldemort gets powerful in a big battle," he said. Lord Voldemort is a Potter villain.
At the library, the side room had a castle-like painted sheet covering the door, and once inside, there was a Harry Potter knick-knack table, a witch's corner where they mixed up the potions, a Great Hall room with games and puzzles, and a picture booth room with a Harry Potter stand-up character to pose with. Griffin Schmidt, 4, from Falls Church, was in that room with a broomstick in hand, posing for his parents. Griffin has seen the movie, said his father Jeremy, and will possibly enjoy the book when he gets older. "It gets him in the library, and it's good to be around the older kids," Schmidt said.
Library staff member Jill Wright watched the constant flow of children and their parents in the room. "People are really excited to have their pictures with Harry," she said.