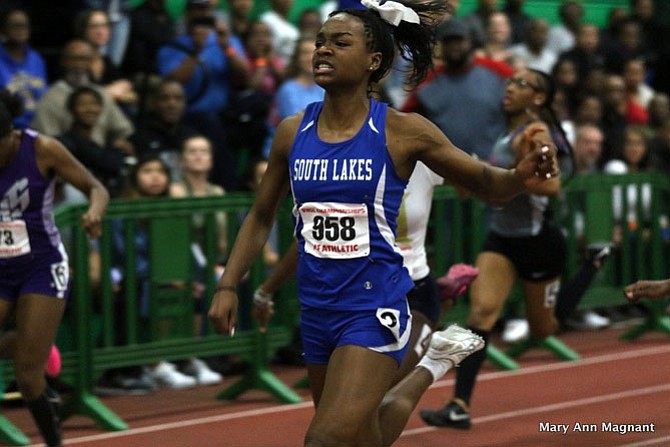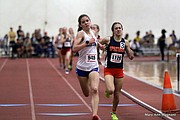 Paced by sophomore Hannah Waller and junior Isabelle Gulgert, the South Lakes High School girls track team finished second at the 6A State Indoor Track and Field Championships Feb. 23-24 at the Boo Williams Sportsplex in Hampton, Va.
Waller, who is competing in her first season of high school indoor track, won the 55 meters in 6.87, a school and meet record. The time also tied the facility record, is second-place all time among Virginia girls and is the third fastest time in the nation. Waller also won the 300 meters. Her time of 38.50 is just over a tenth of a second off the meet record.
Waller, senior Aly Rayle, junior Nicole Post and sophomore Mary Gregory finished third in the 4x400 meter relay (4:02.12). Waller's only non-top three finish was in the long jump, where she was 14th (15-09.75).
Gulgert, the Liberty District champion, added the title of 6A State champion in 1,600 meters. She ran a personal best of 5:03.94 to win the event and had a personal best of 11:11.45 to finish fourth in the 3,200 meters. Gulgert, Rayle, and sophomores Emily Lannen and Caitlyn Morris finished fourth in the 4x800 meter relay (9:28.00).
Gregory, along with scoring for the team in the 4x400 meter relay, added to the team's points with a third place finish in the 500 meters (1:14.81) and sixth in the 300 meters (40.93).
Senior Jamie Richards threw a 35-02.50 in the shot put for eighth place.
The boys finished 15th with results that include:
Senior Ronak Cuthill, 11th, in the boys shot put (47-02.25)

Juniors Nicky Gryski, Calvin Warstler, seniors Sean Casey and Alex Loukili, 3rd, in the boys 4x800 (8:06.63)

Seniors Pape Ndiaye, Carson Frutchey, Otman Srayi, and junior Stevie Jones, 14th, in 4x200 meter relay (1:34.71)

Casey, 6th in the 1,600 meters (4:27.70)

Seniors Alex Wallace, 12th, 1:07.81 and John Eggeman, 20th, 1:08.75, in the 500 meters

Loukili, 11th, in the 1,000 meters (2:37.06)

Eggeman, Wallace, Casey, Jones, 3rd, in the 4x400 meter relay (3:27.37).