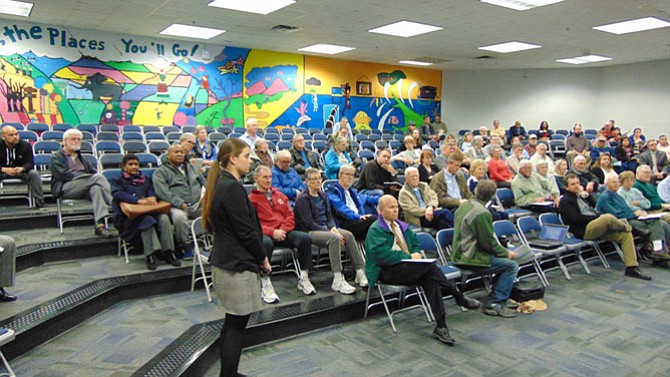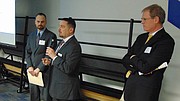 The Virginia Department of Transportation wants to spend $51.6 million to widen 1.4 miles of Rolling Road (Route 638) from two to four lanes from Viola Street to Old Keene Mill Road. That includes a shared-use path for bicyclists, pedestrians, and other non-motorized users in Springfield. The purpose of the widening is to help relieve congestion, increase capacity, improve safety, and expand mobility for all users. Experts are forecasting from 20,000 to 40,000 vehicles per day on Rolling Road in the near future.
About 100 people attended a design public hearing on Tuesday, Feb. 27, 2018 at Irving Middle School to hear from VDOT on design features, look over documents and maps, and voice their concerns over how the widening would affect them. The project includes a new traffic signal at Greeley Boulevard, an additional left-turn lane, and a right turn-lane at Old Keene Mill Road.

The estimated cost includes preliminary engineering at $5.9 million; right-of-way acquisition/utility relocation at $17.4 million; construction at $28.3 million; for a total cost of $51.6 million. The project is being financed with federal, state, local, and Northern Virginia Transportation Authority funds.
Phase I will see improvements to the Old Keene Mill Road intersection that include dual left-turn lanes, a dedicated right-turn lane northbound on Rolling Road, which will alleviate existing congestion at the intersection before Phase II improvements are implemented
Phase II will see Rolling Road widening from two to four lanes between Viola Street and Old Keene Mill Road, and signal upgrades, pedestrian and bike facilities and improvements to access management will be added.
Specific changes from Viola Street to Birmingham Lane include on-street parking along the northbound and southbound sides; and a raised 15-foot wide grass median. Changes from Birmingham Lane to Barnack Drive include on-street parking along the southbound side; a raised four-foot wide concrete median; and 12-foot high noise walls along the northbound side.
Specific changes from Barnack Drive to Old Keene Mill Road include a raised 15-foot wide grass median; and noise walls along both sides to Rivington Road. Property owners who benefit from the noise walls would get to vote on them – but not everyone gets to vote.
THE SCHEDULE for the right-of-way impacts for Phase 1 is the Fall 2018; and the Phase II is Winter 2019. The utility relocation will begin in Spring 2019 for Phase I; and Winter 2020 for Phase II. Construction is slated to begin in the Fall 2019 or Winter 2020 for Phase I; and Fall 2020 for Phase II.
After the presentation, residents voiced their concerns on everything from safety to cost to how it would affect their property values.
Ricardo Sepulveda, who lives on Rolling Road, said VDOT is turning Rolling Road, a neighborhood road, into a highway system. "This project began under the premise of being a four-lane expansion – it went from two to four, plus a turn lane – that's five; plus two lanes for parking – that makes it seven; plus a bike path; and all of a sudden, you have eight or nine lanes. So, the neighborhood will cease to be," he said.
Tahnee Blauser, who lives on Viola Street, said: "My husband and I are concerned that the property values will go down when we have a four-lane highway cutting through our neighborhood. …I'm very concerned with the safety issues of turning off of my street, Viola, onto Rolling Road when going South because we will now have to go across four lanes instead of two lanes. And as it is, it's next to impossible to cross the street on foot safely because people drive way too fast and they don't stop for pedestrians at the crosswalk."
Esperanza Rey, who lives on Regal Oak Court, is concerned with how much property VDOT is going to take away. "It's going to impact all of our vegetation, the fence, everything we have there – the signs for the association are all going to be taken down," she said. "We have to consider all of the costs because they're going to compensate us, but how much is that compensation?"
She's also concerned about the exit; to make a turn, they exit Regal Oak Drive and are forced to go to Kenwood Avenue into the parking lot because they aren't permitted to make a U-turn. "[Turning] right is not a problem, but left is a major problem, and now we're going to have double the impact – we're going from 20,000 to 40,000 people a day. How are we going to get across?" she said.
Jay Conners, who lives on Maple Tree Lane, which backs up to Rolling Road, said his main concern was for the safety of residents trying to get out of Viola. "More often than not, we have to turn left to go left to go to Old Keene Mill Road. That being the case, the speed limit right now, no matter what is posted, is never driven at," he said. He's also concerned about the intersection: "What are they going to do to our intersection? Make us go only to the right, and go down to the light and take a left and do a U-turn and come back? Not a good answer – not for us who live there."
RESIDENTS can send comments about the design, which are subject to public disclosure, via email to meetingcomments@vdot.virginia.gov. Project information shared will be available online atwww.virginiadot.org/projects. The comment period ends March 9, 2018.