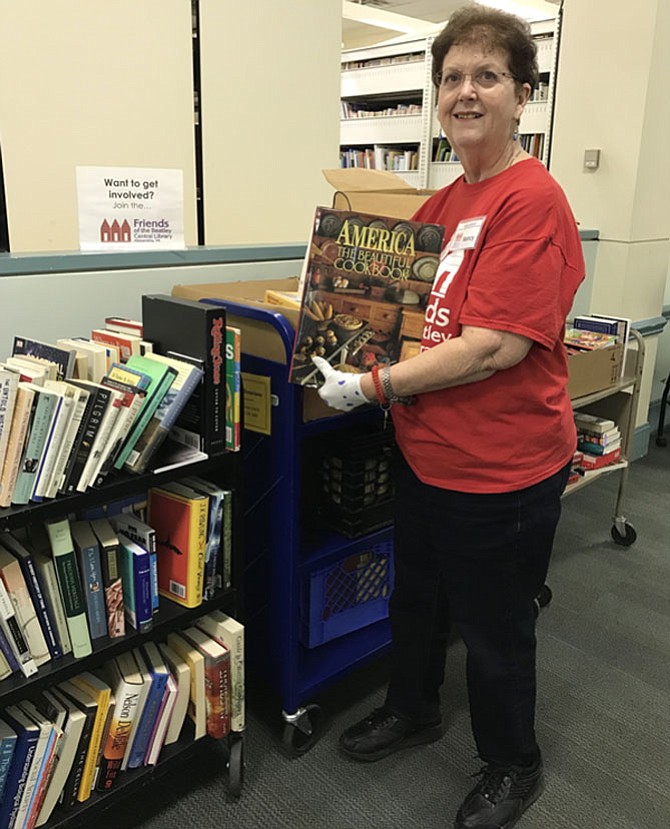 HOURS FOR BOOK SALE
March 21 Members Preview Night 4-8:30 p.m.
March 21-22 10 a.m. to 8:30 p.m.
March 23 10 a.m. to 5:30 p.m.
March 24 10 a.m. to 4:30 p.m.
March 25 1-4:30 p.m.
An afternoon's entertainment for only $3 or maybe even 50 cents? The Friends of Beatley Central Library is holding its semi-annual book sale from March 21-25 at the library. Nancy Blanton, vice president of Book Sales for the Friends of Beatley Central Library said, "We have around 25,000 books for sale for each of the spring and fall sales." The books are sold from $3 for a hard back to $2 for a paperback "and kids books are even cheaper because we want kids to read."
Blanton says she has 24 volunteers who sort books year round and to be sure they are in good condition with no mold or scribbling in the margins. Sometimes an estate brings in 20 boxes of books at a time or people drop off bags of books. "But we never throw away a book. All go to a good home."

She says if they have what they call a B minus book they may give it to the end-of-the-month food distribution programs in Alexandria, to the detention center or other non-profit groups. And on March 26, the day after the book sale ends, they invite teachers to come and take all of the books they want for the classroom. "But they have to carry the books out."
Books are donated by the community. "We have everything from 'A Place Called Freedom' by Ken Follett to 'Diary of a Wimpy Kid,' 'Entertaining Ideas for Williamsburg,' and 'The Fix' by David Baldacci." One of Blanton's favorite titles is "World's Greatest Military Aircraft: Illustrated History," and "Last year we had a book in the Cherokee language."
Sometimes the library gets a valuable contribution such as a recent vintage signed Gershwin songbook. "We contract with online booksellers to sell these antique books. The Gershwin book sold for $1,200."
Proceeds of the spring and fall book sales average about $25,000 for each and are used to support a number of supplementary library programs and technology. "We paid for murals to be painted in the children's area, a new AV system to replace the 20-year-old system and a new state-of-the art camera to record programs given during the day when many people are working," Blanton said. "We also fund a lot of children's programs as well as new books and rights for E-books."