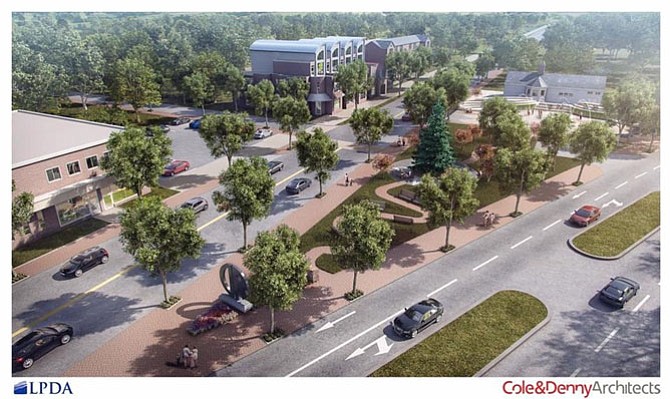 "We exceeded our goals with our first major fundraiser. But we still need to reach $48,000 in matching funds." — Gateway Project organizer Gayle Reuter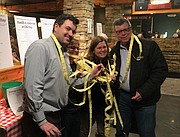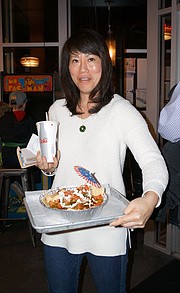 Fundraising for the Del Ray Gateway project kicked off Feb. 26 with a Night of Giving that raised more than $18,000 for the transformation of the corner of Mount Vernon and Commonwealth avenues into a memorial garden and community spray park.
"What an amazing night," said Gayle Reuter, one of the organizers of the project. "We exceeded our goals with our first major fundraiser. But we still need to reach $48,000 in matching funds."
Held at Pork Barrel BBQ, the event was the first planned by the Del Ray Community Partnership to benefit the Del Ray Gateway project. Currently the site of a small triangular pocket park and the former Colasanto pool, the Gateway project will feature a community spray park and the Nancy Dunning Memorial Garden.
"It almost felt like Nancy was in the room with us tonight," said Reuter, who was a friend of Dunning's prior to her murder in 2003. "The entire place just felt like love and community. The residents, the businesses … people were beyond generous."
Dunning, wife of then-sheriff James Dunning, was known as "the Queen of Del Ray" for her passion for the community. Her Dec. 5, 2003 murder remained unsolved until Charles Severance was convicted in 2015 of Dunning's murder, along with the murders of Alexandria residents Ronald Kirby in 2013 and Ruthanne Lodato in 2014. Lodato's widower Norman attended the Night of Giving fundraiser.
"[Dunning's] death impacted the hearts of many, who have long sought to honor her memory and the joy, optimism and life she brought to our little community in the big city," said organizers on the project's Facebook fundraising page.
The Community Partnership received a matching grant for $48,000 from the City of Alexandria for the Gateway project. The partnership needs to raise its matching funds by June 30.
"Phase I should begin by June 30 or earlier depending on when the matching funds are collected," said Reuter. "That includes taking down the fence, putting a cover on the pool and making the space more usable and neighborhood friendly. Phase II is the Nancy Dunning Gardens and Phase III is the Splash Park. "
The sale of raffle tickets and "Splash Park Nachos" added to the funds raised for the project and the Del Ray Citizens Association plans to donate all proceeds from its May 12 Home & Garden Tour. Mike Detomo from Cole & Denny and Amie Evans from LPDA donated their services for the project's conceptual design.
"What a great city and community collaborative," Reuter added. "There were so many families and kids here tonight. Nancy would have loved seeing the community come together like this. It really was a success beyond what we could have imagined."
To donate to the project online, visit www.delraygateway.com. For updates, follow Del Ray Gateway on Facebook.