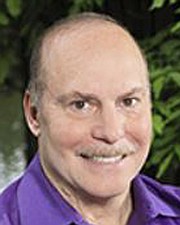 When builder Russ Glickman talks about staying home, he doesn't just mean for dinner, but remaining comfortably and safely in your home for as long as you can.
On March 15 at 7 p.m., Glickman will bring hope and optimism about aging-in-place in a talk entitled "Creating a Master-Plan to Live at Home Forever." The free talk, held at OASIS at the Macy's Montgomery Mall store, is hosted by Potomac Community Village (PCV).
Raising a son born with cerebral palsy, and watching him deal with the challenges of everyday living, Glickman, who founded his firm, Glickman Design/Build in 1975, dedicates an increased focus of his home remodeling talents and successes to the principles of "universal design."
In 2009, he began offering customized solutions for clients with special needs, including some of the difficulties often faced as people age. The solutions he proposes are geared to creating appealing living spaces that accommodate people of all ages and abilities while maintaining a balance with style and aesthetics.
With a certificate for "aging in place" from the National Association of Home Builders, Glickman incorporates single-floor living, widened doorways and hallways, pocket doors, curbless showers and other stylish renovations into his design and remodeling projects.
PCV's March 15 program, free and open to all, takes place from 7-9 p.m. at OASIS, at Macy's Montgomery Mall store, Westlake Drive, Bethesda.
Potomac Community Village is a non-profit all-volunteer network of friends and neighbors geared to enabling older Potomac residents to age in place in their existing homes and remain independent by creating social connections and providing needed services. PCV's service area is the 20854 zip code.
PCV welcomes volunteers of all ages, and from all zip codes, to provide assistance with occasional transportation, errands, computers and other electronic devices, friendly phone calls and visits, and simple home repairs. For more information, to volunteer or to join, contact info@PotomacCommunityVillage.org or 240-221-1370, or check out www.PotomacCommunityVillage.org or www.facebook.com/PotomacCommunityVillage.