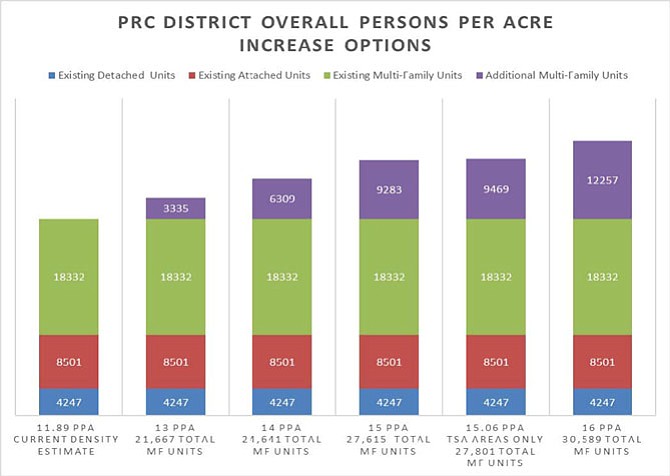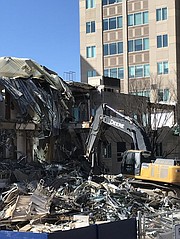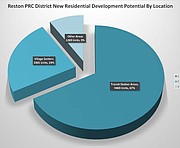 Boston Properties is preparing to construct their next high-rise in Reston Town Center. Demolition is underway to clear a footprint for their new office and retail building to be constructed at 1750 Presidents Drive on Block 5, the last office property available in the urban core of Reston Town Center (RTC).
Boston Properties recently announced the Reston-based information technology contractor, Leidos would be the anchor-lease holder in the new rise designed for them by Shalom Baranes Associates.
The 17-story building will be located beside the other Boston Properties structure in Reston Town Center, The Signature, their new 508-unit apartment building at 11850 Freedom Drive. The Signature includes an East and West Rise, North Lofts, Center Row, and on the ground floor its anchor, the gourmet market Balducci's complete with chef prepared food, catering, grocery delivery and wine and food events.
In late January, Leidos announced they are relocating workers from about 265,000 square feet of office space in three other buildings, two in Reston Town Center and a third on Roger Bacon Drive noting approximately 1,000 of their employees will work at the 1750 Presidents Drive building.
IN A SEPARATE ACTION, the Fairfax County Board of Supervisors delayed the scheduling of the proposed Planned Residential Community (PRC) Zoning Ordinance, a change to raise Reston's population cap of 13 people per acre to 16 equaling a 23 percent increase that could add 18,737 more people to the population.
The Reston Master Plan would focus future growth in Village Centers, the Town Center, and Transit Station Areas.
The Board was expected to introduce the proposed zoning ordinance amendment to its agenda at their March 6, 2018 meeting. New dates for the previously scheduled three meetings about the Planned Residential Community Board Authorization Item, Planning Commission Public Hearing, and Board of Supervisors Public Hearing, have not of yet been determined.
In regards to the proposed amendment, the Fairfax County Government website states, "Based on recommendations from a 40-member community task force, the Comprehensive Plan for Reston was updated in 2014 and 2015. The plan calls for future growth to be focused in the Town Center, the Village Centers, and the areas around the three Metro Stations. An update to the Zoning Ordinance is needed to implement the new plan, because some of its current provisions limit the growth of Reston by capping its population to 13 persons per acre. ..."
The proposal met with citizen outcry and opposition at two standing-room-only community meetings. Opponents claim if the ordinance were to be approved, it would cause an explosion of growth that current infrastructure could not handle. They argue the infrastructure must be in place first.
For more information about the PRC, visit fairfaxcounty.gov/planning-zoning/zoning-ordinance.