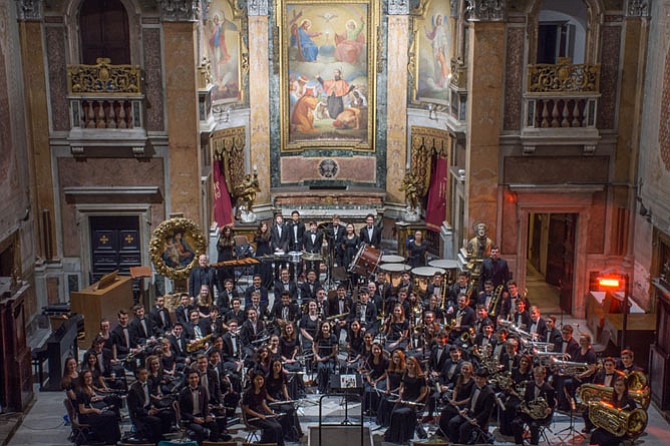 The Langley High School Band recently returned from a one-week trip to Italy that included visits to Pisa, Siena, and Vatican City, with performances in Florence and Rome. In Florence, the Band performed at one of the oldest churches in Florence, the Auditorium of Santo Stefano al Ponte. The next day, the band performed in Rome at the 17th century baroque Oratorio del Caravita, where Mozart performed in 1770. In both venues, the band played pieces by Italian composers Delle Cese, Albinoni, Respighi, Puccini, and Vecchi, to large and appreciative audiences. The trip was a remarkable educational and cultural experience for the students, filled with memories that will last a lifetime.
Langley Band and Orchestra Set School Records for All-Virginia Selections
Langley High School is sending a school record 15 students to this year's All-Virginia Band and Orchestra honor groups. The musicians were selected based on auditions that were open to the top musicians in each district in the state. The All-Virginia performances will be held April 7 at the Dominion Arts Center, Carpenter Theatre in Richmond. The students selected are: Surya Ambardar (E-flat clarinet), Brooke Baird (violin), Cherri Chen (percussion), Chris Fox (cello), Gaoyang Ganjin (alto saxophone), Beth Johnston (trumpet), Forrest Johnston (trumpet), Alyssa Kim (violin), Cindy Rodi (piccolo), Fay Shuai (cello), Jeffrey Song (B-flat clarinet), Wendy Tang (flute), Izzy Tice (tuba), Boris Topalov (tenor trombone), and Madeline Yu (violin).