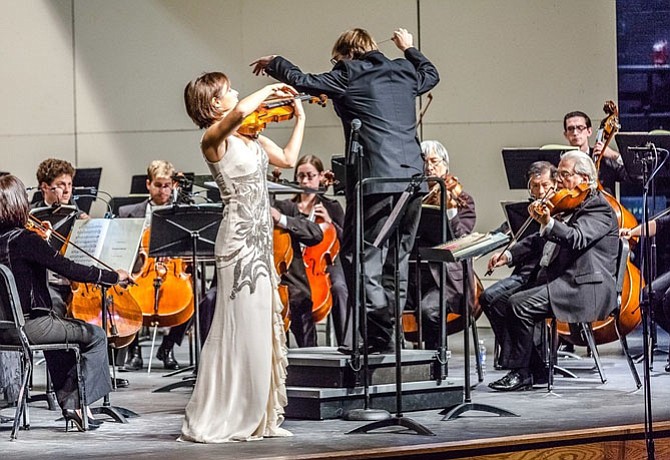 "My goal is to reach at least one million children through music and technology within the next 10 years." — Conductor and Encore Kids! founder David Michael Wolff
Zip. Zero. Zilch. Bill Craig will be the first one to tell you that's how much he knows about music. But that didn't stop the Clifton resident from becoming the band booster president for three years when his two sons were students at Centreville High School.
"I really have no musical ability or knowledge whatsoever," said Craig, whose sons Kyle and Eric were in the CVHS marching band, jazz ensemble and orchestra. "But I was always impressed when I attended the school performances. I thought the students were professionals — they were that good so I was inspired to get involved."
Craig is now working to bring an innovative music program called Encore Kids! to Northern Virginia. Started in North Carolina by pianist and conductor David Michael Wolff, Encore Kids! hopes to reach 1,000 K-2 students in Fairfax County when it launches the Virginia pilot program during the 2018-19 academic year.
"Our goal right now is to raise money to launch the program in Fairfax County this fall," said Wolff, who serves as principal conductor and artistic director of The Carolina Philharmonic. "This will be only the second Encore Kids! program in the country so we are working now to create a greater awareness in Northern Virginia."
Wolff, along with violinist Natasha Korsakova, will perform a benefit recital March 25 at Clifton Presbyterian Church to raise funds for Orchestra 2100, the nonprofit that runs the Encore Kids! program.

"Northern Virginia is home to many technology leaders and we want to bring their knowledge into the program," Wolff said. "With advancements in AI [artificial intelligence], this is the future direction of the program, hence the name Orchestra 2100. My goal is to reach at least one million children through music and technology within the next 10 years."
The hour long performance on March 25 will be followed by a Meet the Artists reception.
"This is a chance for me to talk about the Encore Kids! program and the benefits it can bring to Fairfax County," Wolff said. "The three-year cycle of curriculum creates something in between a classical music concert and a rock concert. We utilize games and lighting in a show that excites and impacts kids in a way traditional orchestra concerts do not."
For Craig, whose Chantilly-based company WiSC Enterprises is a sponsor of the concert, partnering with Orchestra 2100 is a way to help bring music to a younger audience.
"I have always tried to support what is going on in our local area," said Craig, who serves on the board of Orchestra 2100. "The final piece for me is that this involves kids. It's amazing to see children so enthralled. And watching David perform not only opens up your eyes, it increases the 'wow' factor with kids and their appreciation for music."
The Korsakova & Wolff in Duo Recital will take place at 6 p.m. at Clifton Presbyterian Church, 12748 Richards Lane, Clifton. Tickets are $30/$15 for 18 and under. For more information visit www.orchestra2100.org