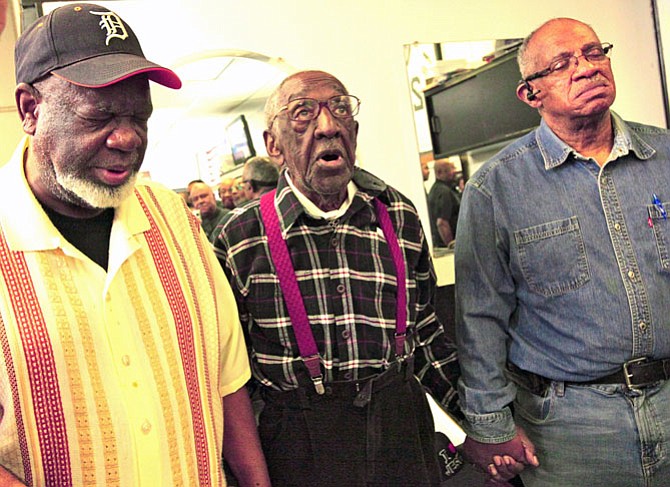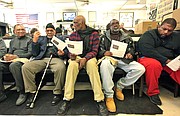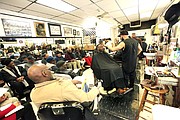 William Charity walked into the All American Barbershop as he does every Wednesday, slow and steady, greeted by that familiar sound of electric hair clippers and the voices of dozens of men chit chatting before getting down to business. At 102, Charity, who drove a taxicab in Alexandria for 52 years, is easily the eldest member of the Barbershop Bible Study Ministry, which started at the shop at 1106 Queen St. three years ago with only six members. There are now over 40 members.

A voice shouted: "Happy to see you, Mr. Charity!"
"Good evening, everybody! I'm happy to be here!" he responded, almost shouting, shuffling past a team of reverends and group members to his chair in the back to hear about God and the Bible. The talk, which started a few minutes later, was focused on Ephesians 4:23-24, which reads, "Let the spirit renew your thoughts and attitudes."
Charity is also a deacon at Ebenezer Baptist Church in Alexandria. What's his secret to longevity? The Golden Rule.
"Mind your own business and treat people the way you want to be treated," he said.

The men sat, some in barber chairs getting their haircut, others in folding chairs and seats aligning the shop walls — listening to the lessons of practicing peace and love during challenging times. They also had a cake for Charity, who celebrated his birthday on March 13.
"I've been very fortunate here in Alexandria," Charity said during the discussion. "Everybody knows me. I bet you can't hit three people in the head that don't know me. And nobody knows my first name. Everybody calls me Charity."
The group was founded by the late Geoffrey Thomas, lifelong Alexandrian Gary Jordan and shop owner Booker T. Wilkins. Discussions are led by Jordan, former senior pastor Dr. Lee Earl of Shiloh Baptist Church and deacon Ron Jewell of Ebenezer Baptist Church. Jordan started work at 12 years of age shining shoes at the barbershop in 1969 — so this is home. Incidentally, the All American Barbershop will celebrate its 50th anniversary next month.
"We have a 102-year-old man who is learning to this day," Jordan told the group. "As men in this room, if you want to change the way you act, you've got to change the way you think. Everyone in this room knows trials and tribulations will come their way."
Earl is not your average preacher full of dogma and tradition. He said people are becoming increasingly disenchanted with organized religion and that it limits freedom of expression.
"The only way you can capitalize off of energy is if you can control it and direct it," Earl said. "We have to listen to people as a way to validate their reality, and then if they don't like that reality we can give them an alternative reality based on Christian principles, because they're looking for something. That's why they come in here."
One of the members, Carlton M., was homeless and addicted to crack.
"I was sleeping on the corner and on porches and this place saved me," he said. "It started right outside there in that alley, hitting some crack, and one of these brothers said, 'This is not God's plan for you. You're bigger than that.' I put that crack pipe down and never used it again. Now I'm a driver making good money and I'm engaged. I come here every Wednesday, man. I get off work and I come right here."
Everyone held hands at the end of the talk, and Charity took them home with an old spiritual. Raising his chin, with clear eyes and wire-rimmed glasses, his soft and strong voice carried across the barbershop and was soon joined by a chorus of strength.
"Lord, you know I love everybody … Deep down in my heart … In my heart … Lord I want to love everybody … In my heart ... In my heart."