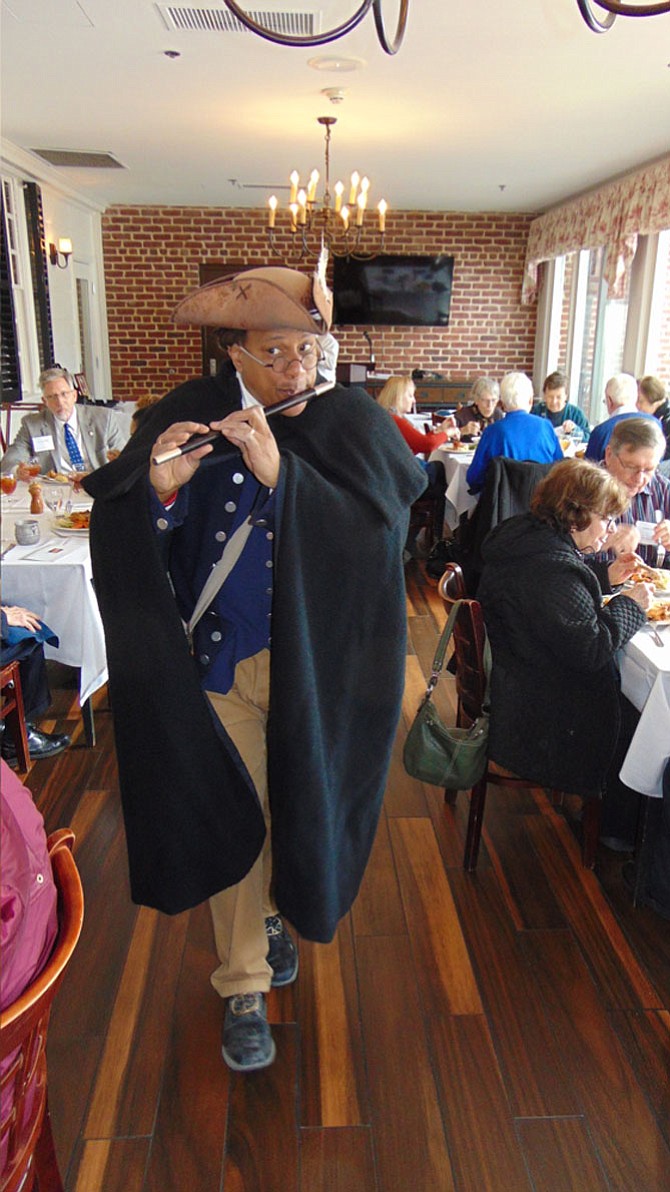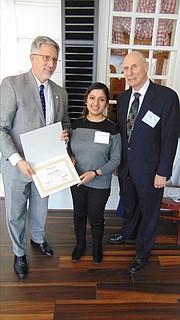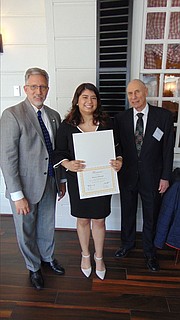 Two NOVA nursing students received scholarships worth $1,200 in memory of Harriet H. Fatzinger's legacy during a special luncheon at The Mount Vernon Inn last Wednesday, March 14.
The scholarship's 11th and 12th recipients were NOVA students Anusuya Adhikari, 22, a Certified Nursing Assistant and Med Aide originally from Nepal and now living in Manassas; and Monica Miranda, 20, a licensed practical nurse who works at Sentara Northern Virginia Medical Center in Woodbridge and now living in Manassas. Most of the scholarship winners have been women; but last year they had two male winners.
"I feel honored. It's not only financial help for me; I felt motivation to work harder," said Adhikari who hopes to become a geriatric nurse practitioner and work in nursing homes.
"I'm very grateful because it's going to be helping me a lot in paying for tuition and books because my parents are not only putting one student through college but two," said Miranda who hopes to become a certified registered nurse and anesthetist. She is originally from Texas; her parents are from El Salvador, so she grew up in an immigrant household.
The scholarships are in memory of the late Harriet Fatzinger, a 1972 cum laude nursing graduate from NOVA's Annandale Campus. She worked 13 and a half years at United Airlines and as a nurse at Key Center, as well as a school secretary at Groveton Elementary. She started a program 19 years ago ministering at Mount Vernon Presbyterian Church and also had a strong interest in helping people with disabilities. Her husband Dr. Glenn Fatzinger runs the NOVA memorial scholarship program, which has raised $94,000 from 157 people so far. He also teaches two history classes as an adjunct professor at NOVA's Alexandria Campus.
"When Harriet died, we wanted to honor her legacy; she was interested in helping people with special needs and for less fortunate people," said Fatzinger, adding, "The scholarships are awarded retroactively. We award it in the second year to students because we want to be sure they're going to graduate."
According to Dr. Scott Ralls, president of NOVA: "Glenn Fatzinger and the whole Fatzinger extended family, and Harriet Fatzinger, they are not just supporters of NOVA, they're champions of NOVA and NOVA students. Glenn teaches at NOVA and participates in everything we do, but he also provides important scholarships for our nursing students who will then go into the Northern Virginia community and become health care providers. He's one of the people who makes it happen."
Dr. Marsha Atkins, the dean of nursing at NOVA, said scholarships are especially important to nursing students. "Nursing is an expensive profession. Students that go into nursing make a tremendous sacrifice. They have to quit their jobs. It's almost impossible to work full-time and go to nursing school full-time and be successful. Without scholarship support, it would make it even more difficult for them," said Atkins who graduated in 1972 with a two-year nursing degree from NOVA. "I graduated the same year that Mrs. Fatzinger did. And I went to school on scholarships, so I truly know how important it is. So, we're real blessed to have this offered to our students."
Added Dr. Nicole Reaves, NOVA's Medical Education Campus provost: "This is a great way to celebrate the life of Mrs. Fatzinger and also to support the success of our students …Typically the barrier to success for our students is finance, so if we can eliminate that barrier through scholarships, this is what we do to support them and their success."