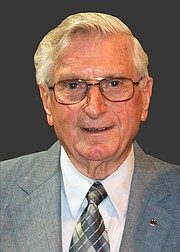 James R. Harris, of Alexandria, died peacefully on March 4, 2018, surrounded by family. He was 84 years old.
Born in Aurora, N.C. on Jan. 26, 1934, he moved to Del Ray in Alexandria, with his family, when he was 6 years old. He was a 1952 graduate of George Washington High School in Alexandria. In 1952 he enlisted in the USCG, where he served for 4 years. During this time he met the love of his life, Mary (Patsy) Ignacio. They were married for 56 years, until her death in 2013.
After his discharge from the USCG, Mr. Harris trained to become an electrician, working in the Alexandria area. In 1969, he opened his own firm, James R. Harris, Inc., a mechanical and electrical contractor, on Duke Street in Alexandria. For the next 30 years, he remained at the helm of his company working primarily in the Old Town Alexandria area.
Mr. Harris was a long-time member of the Rotary Club of Alexandria and was also a Fourth Degree in the Knights of Columbus. He often spent hours of his free time helping others, and delighted spending time in Wrightsville Beach, N.C., each summer. Perhaps his greatest joy though was when he was in the company of his loving wife, three adult children and their families, including five grandchildren.
He was preceded in death by his wife, Mary Ignacio Harris. He is survived by his children James R. Harris, Jr. (wife Nina) of Madison Heights, Va., Gina Harris Sikora (husband Dan) of Boulder, Colo., and Christina Harris Gerke (husband Bill) of Alexandria, and five grandchildren (Ben Gerke, Stephen Gerke, Caroline Gerke, Joe Sikora and Aly Sikora).
A funeral service and celebration of his life will be held on Friday, April 6, 2018, at 10:30 a.m. at Good Shepherd Catholic Church in Alexandria.
In lieu of flowers, contributions can be made in his name to the Rotary Club of Alexandria.