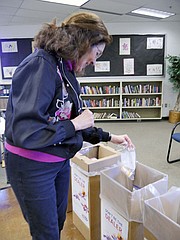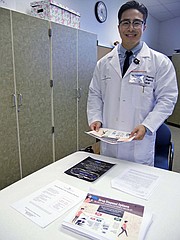 It's 11:15 a.m. on Saturday, April 28 and four large translucent bags bursting with discarded pills already sit in the corner at Langston-Brown Community Center on National Prescription Drug Take-Back Day. Four collection bins sit inside the door with "Don't Be the Dealer" plastered on the front.
Arlington County Police Officer Mike Keen says, "Last year we got more than 700 pounds of drugs, and we seem to be on track to get even more this year."
The event is scheduled to run from 10 a.m.to 2 pm. Corporal Beth Lennon, Arlington County First District Community Policing Team, has been doing this for years. This is the 15th opportunity in seven years for the public to anonymously dispose of unwanted or expired drugs through this nationwide program. Lennon says, "Langston seems to be the largest drop-off site. People seem to brIng in prescription drugs from sick family members or the drugs are expired and they don't know what to do with them."
Diane Kelly deposits a bottle of pills in the bin. She says, "I had some pills left over from surgery. They were unopened and I didn't know how to get rid of it." Steady streams of people walk through the door, some with one bottle, like Kelly, and others with large containers filled with pills of all colors and sizes.
"Any needles, insulin?" Lennon says this year they can also collect needles because the fire department bought Sharps Containers. She says at the end of the day, "We will take all of our bags to the state police where they will weigh what we got and then incinerate it."
This year a pharmacist has been added to the event to answer questions about drugs. Nhon Ta, a pharmacist with the Virginia Hospital Center outpatient pharmacy, says most of the questions have been about the safest way to dispose of drugs if you miss the official drug disposal option. A pamphlet includes a list of medicines recommended for disposal by flushing as well as instructions for disposing of fentanyl patches or inhaler products. It also details the emergency response for opioid overdose.
"People have also been asking about expiration dates since drugs are generally good for a few years more but it's not recommended." Ta says drugs just keep piling up.
Ta explains, "We're hoping to raise awareness that we can answer medical questions about drug interactions. You can bring your medications to the Virginia Hospital Center outpatient pharmacy to get information about interactions. You don't have to be in the hospital; it's open to the whole county."
The Arlington County Department of Human Services representatives at a nearby table are answering questions about substance abuse. "Mostly questions from people about a family member like your children." They were also publicizing the upcoming Town Hall, "One Crisis, One Community, One Conversation." It is scheduled for May 2 at Kenmore Middle School from 7-9 p.m.
According to Keen, a late afternoon count totals 744 pounds of prescription drugs collected this year in the county.