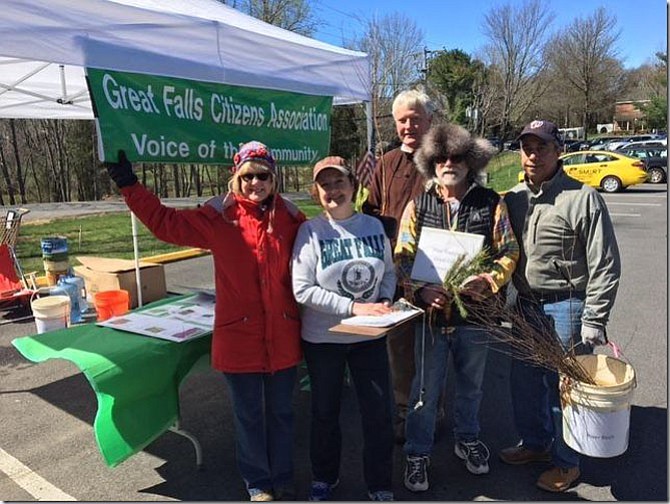 To encourage more residents to plant new trees for the next generation, the Great Falls Citizens Association (GFCA), in conjunction with Fairfax ReLeaf, has organized a tree sapling program this spring. On Saturday, May 5 from 10 a.m. until 1 p.m. or until the saplings are gone, local residents can pick up free tree saplings from the 500 that ReLeaf has provided to the community. The site of the tree program is the Farmer's Market, across from Safeway on Walker Road. Come early to get the best selection.

GFCA and Great Falls Garden Club volunteers will disperse native species that will enhance the community for many years, including dogwood, redbud, Virginia pine, white oak, and hazelnut shrubs. ReLeaf is a private non-profit organization of volunteers formed in 1992 to plant and protect trees in and around Fairfax County, preserve native habitat and educate the public about the benefits of trees. ReLeaf has supplied and planted thousands of trees throughout the County. (ReLeaf may substitute other native species on May 5 if its sapling inventory changes.)
Native Plant Sale at the Grange Picnic Pavilion
The Friends of Riverbend Park will be holding its annual Native Plant Sale this year on Saturday, May 5 from 8 a.m. to 11 a.m. at the Great Falls Grange Picnic Pavilion, 9818 Georgetown Pike, Great Falls. The Grange is located right next to the Great Falls Library with plenty of parking available, both at the Grange and at the Library. Friends of Riverbend Park will be offering approximately 500 plants from 30 different species of plants native to Northern Virginia including the ever-popular Virginia Bluebells.
All proceeds from the sale are utilized for the benefit of Riverbend Park.