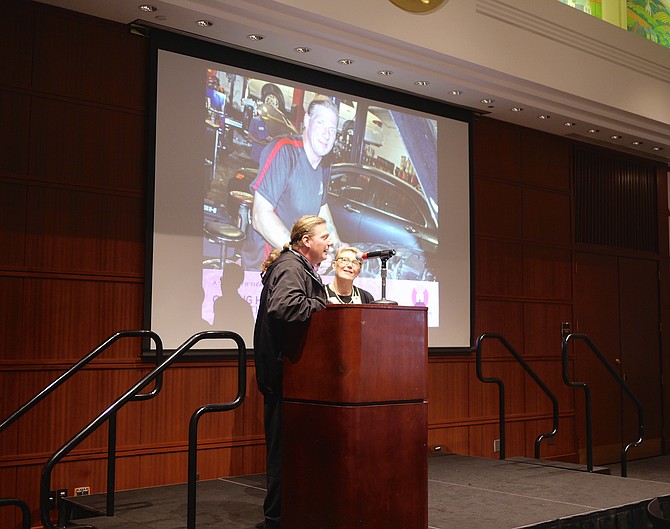 More than 300 local residents and community leaders attended A-SPAN's Coming Home breakfast, an annual event which celebrates those who have been able to leave homelessness behind. The attendees didn't come for the breakfast: they came for the other kind of nourishment: knowing a program designed to get people off the street was working.
County Board member Christian Dorsey talked about growing up near a rescue mission and never giving it a second thought; the backdrop of his remarks was a photo of him as a boy with his two siblings, sitting on the steps of a row house. A few years later, his cousin, Joey, a "really great guy" to whom he looked up, was seen in the neighborhood panhandling. Dorsey asked his family, "Hey, what's going on with Joey?" No one wanted to talk about Joey: they just told Dorsey Joey was a good example of what not to do. Some years later, he asked what had happened to Joey, and his family told him Joey had died. On the street. Homeless. "A few years ago I was privileged to serve on the board of A-SPAN," Dorsey said. "And it brought me to realize I had to connect in a way I couldn't for Joey: there is a lot we can do for the homeless."

Another board member asked, "How many of you have heard someone say about the homeless: why don't they just get a job? But it's a lot harder than you think: you are unstable, you have experienced trauma, you don't have a resume, you don't have an address, no place to dress and shower." The job start program is a way to end the cycle of failure.

Kenneth Florence was in that cycle. Arlington had been his home since 1992; "Many years ago I was living not too far from here, had a job with a military contractor and was working at Ft. Belvoir," he said. "And then my girlfriend suddenly died and I fell into a deep depression — I found myself making bad decisions."

"My job and family were not priorities. I lost my home and found myself living on the street. The past 4 years I was at the Emergency Winter Shelter in Courthouse, or wandering the streets looking for a place to eat or sleep."
"A-SPAN is one of the few organizations that really helped me change my life," Florence said. "I have been clean and sober now for over 3 years and so proud to have the keys to my very own apartment. I started my new life and signed an apartment lease with the help of A-SPAN in September 2015, after spending 10 months at the Homeless Services Center."
"A-SPAN got me into the Job START internship program, which helped train me, made me responsible, taught me accountability, coached me to be reliable, and paid me as I got job skills. The internship changed my life."
Tom Lapham is the AUTO Stop owner who offered Florence the job. They are located on S. Four Mile Run in Arlington. As Florence said,
"Now I had an experience to be proud of and could put on my resume."
Florence talked about how he had worked at AUTO Stop, doing tune ups, oil changes, and changing light bulbs. Then he was soon helping to diagnose the vehicle, working on brakes and changing out the engine. After the internship, the company offered him a job. He now works 20 hours a week and hopes to get 40 hours a week soon. He has his own tools, his own uniform, is studying to get his GED, and got a grant to go to Northern VIrginia Community College to become an auto mechanic technician.

Florence ended his comments with a tribute to his A-SPAN caseworker, Bianca, and Lapham. "I'm now working with the best auto mechanics in Arlington and none of it would have been possible without A-SPAN. You gave me a future, you gave me a purpose. For once in my life, I'm not stressed. I feel blessed."

Attendees at breakfast were asked if they could offer an internship. It could be clerical, custodial, cooking oriented, or landscape work, they were told. A-SPAN would pay for the internship: there would be no cost to the person providing the work. Kathy Siebert, executive director of A-SPAN, noted there were more and more veterans on the street. "We are finding the veterans are older, sicker, and more unstable because of trauma," she said. For more about A-SPAN and to donate money, time, or offer an internship, see www.a-span.org.