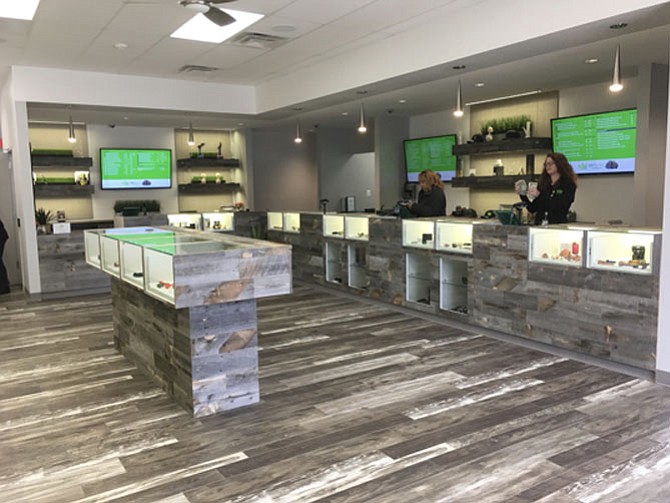 A medical marijuana dispensary, Potomac's first, is planned to open late this summer at the Potomac Oak Shopping Center at the corner of Travilah and Glen roads.
Zen Leaf, a division of Verano Brands, a homeopathic pharmacy in Howard County, will operate the dispensary.
Some neighbors of the area surrounding the small shopping center do not feel that the dispensary will be a suitable neighbor.
Darren Weiss, vice president and general counsel for Zen Leaf Dispensaries, said that mostly a medical cannabis dispensary has no major impact on a community. "It's no different than having a retail pharmacy, restaurant or any business that serves customers," he said.
Nevertheless, the neighbors have started a petition on Change.org in opposition to the plan which will be sent to Montgomery County Executive Isiah Leggett and members of the County Council.
Though writers of the petition acknowledge that, "Unlike other Maryland counties, Montgomery County has no zoning restrictions that would prevent the dispensary from being located here…" they urge county officials "to amend the zoning code to block medical marijuana dispensaries from such inappropriate locations."
As of Monday, April 30, Change.org shows that 46 people have signed the petition
"I think the concern of a great many people is this is in the middle of nowhere," said Katherine Marshall, who lives just off Glen Road. "I'm concerned there will be more traffic on these country roads, people driving the roads after using the product."
After choosing the site, representatives of the dispensary met with neighboring tenants, Weiss said. He said it was a good meeting with no opposition but when the company heard neighbors had an online discussion going, they arranged a community meeting for Friday, April 27 at the shopping center.
Marshall said she estimates there were at least 30 concerned citizens at the meeting.
"At least 90 percent of the neighbors who were there were not questioning the efficacy of the product," she said. "They wonder why here. Potomac Holistics is not far. [Potomac Holistics is a medical marijuana dispensary in Rockville about five miles from the Potomac Oak site.] I wish it were someplace else, we already have 10 [cannabis dispensaries] in Montgomery County, we don't need it in little Potomac Oak Shopping Center."
Montgomery County Department of Permitting Services "permits the dispensaries as they would any other commercial retail permit. No special zoning requirements were adopted by Montgomery County for medical marijuana dispensaries — again they follow the permitting regulations for a commercial retail establishment. The manufacturing of cannabis is considered light manufacturing and the growers come under agriculture," said Jessica J. Fusillo, community outreach and public relations manager for the department.
According to Maryland Medical Cannabis Commission, there are 46 licensed dispensaries in Maryland, 11 of which are in Montgomery County.
Zen Leaf has four dispensaries in the U. S., in Nevada, Illinois and two others in Maryland: one in Jessup, the other in Waldorf.
Maryland legalized the use of medical cannabis in 2014 but, because of the extensive application process, the product first reached the shelves Dec. 1, 2017, said Jennifer White, from the Maryland Medical Cannabis Commission.
The commission issues licenses for growers, processors and dispensaries, she said.
"Its quite a long application process," she said. "At MMCC we make sure the people involved are OK to be involved, and they have finances in place. It is expensive to do a build-out of a dispensary site." Those expenses include a safe a secure location with 24-hour security and a permanent, secured safe for storing the product, she said.
Regulations determining where a dispensary can be located vary according to county, she said.
"I completely understand everyone's concern [about having a medical cannabis dispensary nearby], White said. "One thing that might help ease their minds is that the dispensaries are not like a liquor store or even a vape shop. There is no consuming at all allowed on site and there are no edibles legal in Maryland at this point."