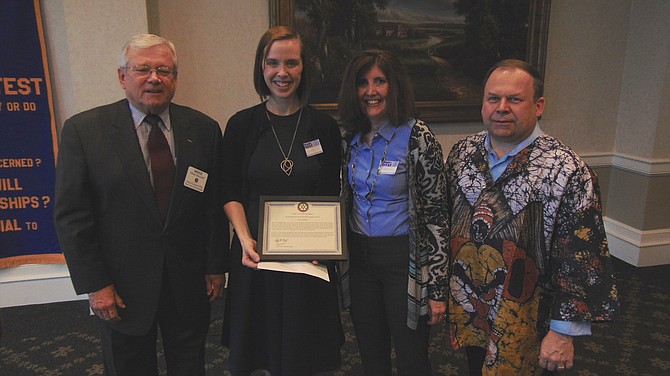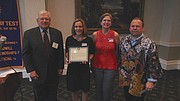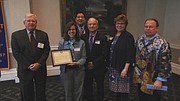 The West Springfield Rotary Club honored three local teachers with Outstanding Teacher Awards during a club breakfast on Wednesday, April 25, 2018, at the Springfield Golf and Country Club. After a catered breakfast with eggs, fruit, and sausage and coffee, the teachers received plaques and checks worth $500.

The honorees were Sarah Wood, a third-grade teacher at Rolling Valley Elementary; Alyson Nagle, science teacher and lead mentor at Irving Middle School; and Susan Lampazzi, Spanish teacher and Chair, World Language Department at West Springfield High School.
"The West Springfield Rotary Club is honored to recognize the outstanding teachers from our community. This is where the true foundation of our greater community, and our nation starts; it starts within these schools and with these truly outstanding teachers, counselors and administrators who keep it all working," said Mike Becraft, Master of Ceremonies.
Sarah Wood of Woodbridge, a third-grade teacher at Rolling Valley Elementary, has been teaching for 11 years. "I've taught first grade, second grade, fifth grade and now third grade, and I have worked with all different populations. I've worked with special education, the English language learners, the advanced academic students and I absolutely love what I do… I really love making a difference with all the kids and building relationships with them," she said.
According to Rolling Valley Principal Maureen Boland: "[Sarah) shows the perfect balance of kindness and caring and also really great instructional practices and so every kid in her class feels a sense of belonging and also learns at incredible levels during the year. In addition to what she does in her own room, Sarah also is a teacher leader at our school. She takes on responsibility to help other teachers grow, she's a model for good instruction and she's a really nice person to be around."
Alyson Nagle of Alexandria, who has been teaching life science for 17 years, has been at Irving Middle for five years. "It's a big honor to be recognized by the Rotary Club; they seem like a fantastic organization, especially as a teacher, I think because their goal is to help so many people, and I think that's what teachers have in mind also. And I think it's nice for people to take the time to recognize the good work that teachers as a whole are doing," she said.
According to Cindy Conley, Principal of Irving Middle School: "When Mr. Becraft asked me to select a teacher, I immediately thought of Alyson. She's a phenomenal teacher but also a great mentor to our staff – our new teachers … She's always trying to improve for herself and for her students. I just think that's an example on why she's a master teacher and a great teacher of the year."
Honoree Susan Lampazzi, who has taught Spanish for 23 years at West Springfield High, was delighted with the award. "Our kids went to West Springfield so I know how great the teachers are. This is just really humbling for me. I'm honored. I'm so grateful that you make teaching an important part of your mission because literacy as you know is the doorway to real success for all our people in our community. Thank you so much. Muchas gracias," she said.
Added Master of Ceremonies Becraft: "[Ms. Lampazzi] encourages her students' continued growth by instilling in them the notion that learning a language is a life-long journey that will open future doors and provide them with unlimited possibilities. She builds relationships by communicating expectations and holding her students to high standards. And encourages them to find new ways to apply their classroom knowledge…. Susan Lampazzi is an excellent example of how one person can make a difference and change lives."