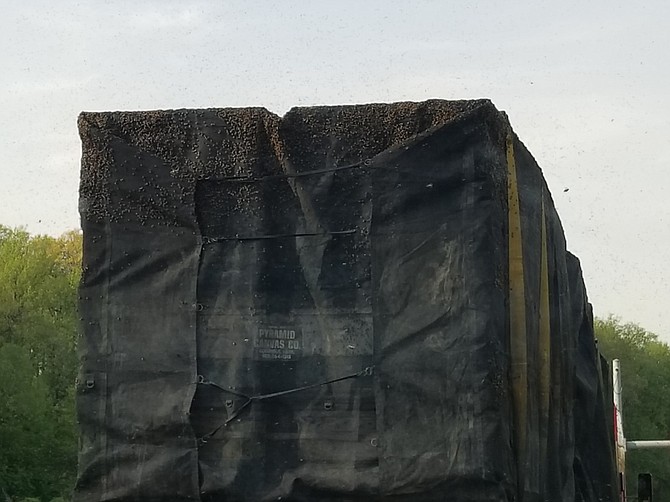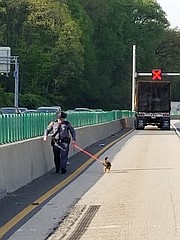 Virginia State Police Trooper C. Lanfranchi Jr. is investigating a multi-vehicle crash in Fairfax County. The incident first began around 4 p.m. Wednesday, May 2, with a minor two-vehicle, fender-bender crash in the northbound lanes of I-495 near Georgetown Pike.
As those vehicles were trying to move out of the travel lanes and over to the shoulder, they were struck by a northbound tractor-trailer that had veered into the Jersey wall.
The driver of the tractor-trailer was found in his cab unresponsive due to a medical emergency.
As Trooper Lanfranchi and medical personnel were assessing the scene, they were suddenly swarmed by bees. Further investigation revealed that the flatbed tractor-trailer was loaded with pallets of honey bees. During the crash, a strap had broken off and one of the pallets shifted - thus allowing the bees to escape.
During the course of the crash investigation, an elderly man and his son stopped out at the scene. They both happened to be experienced bee handlers and offered their assistance. They suited up, inspected the flatbed trailer, and helped secure the load and capture a majority of the bees.
In addition, a small dog was found running loose at the scene. Trooper Lanfranchi was able to rescue the pup and placed the dog safely in his patrol car. It was determined the dog belonged to the tractor-trailer driver. Because it took quite a while to clear the scene, the trooper even took the dog for a quick walk with an improvised "leash" he found in his patrol car.
The driver of the tractor-trailer, a 56-year-old Missouri man, was transported to a nearby hospital for treatment.
Neither driver in the original crash was injured in either crash.