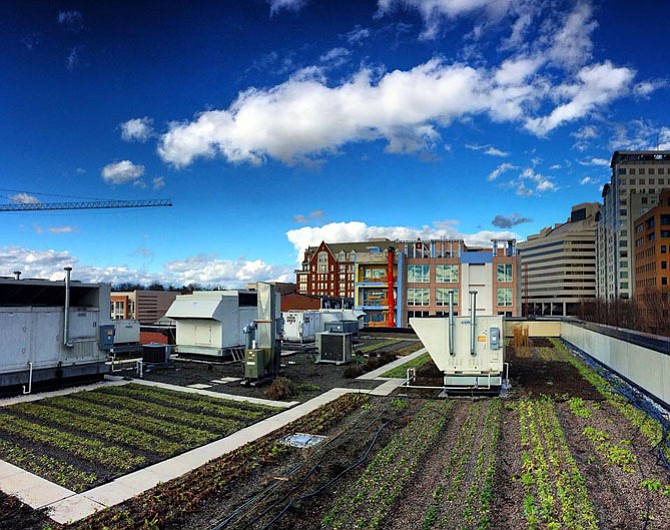 Just a few years ago, Bethesda residents would find a standard strip mall at 11580 Old Georgetown Road in North Bethesda. Today, it's the site of the Pike & Rose, a community complete with condominiums, apartments, office buildings. The residents of these buildings are a stone's throw from restaurants, shops and just about every type of venue one could imagine.
Mixed-use communities like Pike & Rose are developed to improve both human and environmental health. The developers behind Pike & Rose are taking these eco-priorities one step beyond – literally – with a rooftop gardening initiative.
Federal Realty, in partnership with Up Top Acres, a provider of rooftop farms, is launching 17,000 square feet of agriculture on at the top of Pike & Rose residential buildings.
"Federal Realty is trying to redevelop its properties to become mixed-use," said Chris Brown, Federal Realty's Director of Sustainability. "We did Bethesda Row, Pentagon Row, and other local projects. One thing about mixed use and high density developments is that it helps people in those communities focus on health. It's all about having live, work and play options together in one spot. The farm will galvanize residents to eat healthier and will add to the community that they glean from."
Pike & Rose's farm will thrive on urban farming roof space to date, benefitting the hundreds of residents and employees who work at businesses at Pike & Rose as well as the North Bethesda community.
"Green roofs are often installed to facilitate high performance energy, and rooftop gardens take it to a whole new level," Brown said. "They produce crops, but they are also good for stormwater management. When you can turn an otherwise unutilized space it into something that produces food for the community, something for residents to use, that's exciting."
Federal Realty has already experienced success with Up Top Acres.
"A few years ago, we were introduced to the founders of Up Top Acres, and they were looking for an opportunity to convert an existing green roof into a garden," Brown said. "Since Bethesda Row had a green roof, we partnered with them for them to build a 7,000-square-foot garden. Now it's been a solid partnership of three years. Both Federal Realty and Up Top Acres are always looking to expand and recreate. The opportunity to do a larger scale farm, make it an interactive part of the community and offer community supported agriculture is something we are looking forward to."
Up Top Acres was founded by three D.C. locals with a shared passion for their hometown and a collective goal to make it an even better place.
"We started working on the idea in 2014," Up Top Acres co-founder Kristof Grina said. "Each member of the founding team has a different specialty, and I'm the one with the agricultural background. We were all captivated by the concept of rooftop farming. We got inspired and thought it would be great to bring to D.C. We opened our first, pilot rooftop in 2015 [with Bethesda Row] and since then we have grown to seven different rooftops — collectively we're farming more than two acres."
The 17,000-square-foot rooftop garden at Pike & Rose is Up Top Acres' biggest project to date.
"Our mission aligned with that of Federal Realty for the garden at Pike & Rose," Grina said. "We are opening it officially this spring to provide produce for the local community – for the residents, wholesale clients, restaurants in the Pike & Rose development, and to the greater North Bethesda community."
Up Top Acres' farm will ensure that Pike & Rose's city slickers will benefit from a full spectrum of farm fresh vegetables.
"We are growing everything from lettuces, mixed greens, herbs, peppers, radishes, and so much more. There are 16 different variety vegetables," Grina said.
For every vegetable grown above Pike & Rose, there is at least one advantage to the community at large.
"With this rooftop vegetation, we are providing hyperlocal food — as local as it gets — harvested and distributed within 24 hours," Grina said. "We're also cutting down on the distance the food has to travel, which in turn is supporting the local economy. Then, the people who work on the farms work in the community that the farms are in. Rooftop gardens are great, because, in urban areas, it's difficult to find space to grow. For example, it's not like there is anywhere on the ground to grow food on Rockville Pike. We're really making use of space."
As Up Top Acres looks to grow more rooftop farms, the Federal Realty team is pleased to be a part of the movement.
"Finding different ways to interact with the built environment should always be a goal of development," Brown said. "Green roof design is constantly evolving, and we see rooftop farms as a natural progression. We are proud of our partnership with Up Top Acres. They are the drivers, and we're proud to be a part of something so forward-thinking."