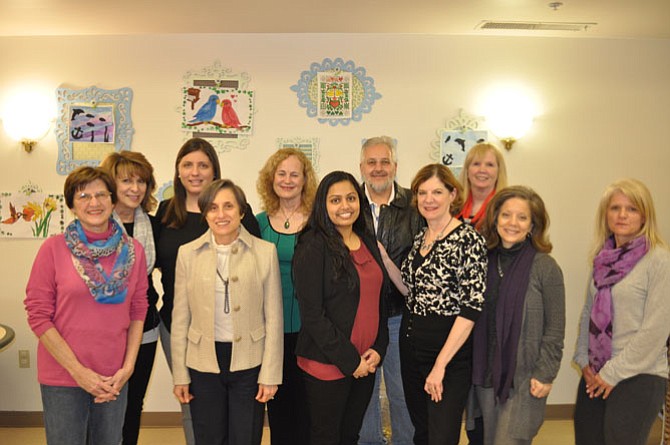 According to the Alzheimer's Association 2018 Alzheimer's Disease Facts and Figures, an estimated 5.7 million Americans of all ages are living with Alzheimer's dementia. This number includes 5.5 million people age 65 and older and 200,000 individuals under age 65 who have younger-onset Alzheimer's. Dementia Friendly America estimates nearly 60 percent of people with dementia live in their own communities and one in seven lives alone. Communities across the country are experiencing an urgent call to support people with dementia and their caregivers by becoming "dementia friendly."
In an effort to create more awareness for the effects dementia has on the person with the disease, the Town of Herndon is using an evidence-based, dementia-friendly community toolkit to engage community members in a process that will help them determine their current strengths and gaps, identify community goals and ways to respond, and to act together to be dementia friendly.
A dementia friendly community: 1) raises awareness of and develops respect and inclusion for people with dementia; 2) has services and resources embedded in all areas of community to ensure meaningful access to community and promote quality of life; 3) supports and educates people with dementia, their care partners and families from diagnosis through disease progression; and 4) promotes meaningful engagement in community.
Several key organizations are leading the Town of Herndon community action team, including A Family Tie, Arden Courts Memory Care Community, Assisted Living Locators, Brightview Great Falls, Comfort Keepers, Dementia Care Connections, Great Falls Assisted Living, Herndon Adult Day Health Care Center, Herndon Village Network, Insight Memory Care Center, Oasis Senior Advisors, Prepare to Care, Sunrise of Fairfax and Vienna Memory Café.
Toni Reinhart, Owner of Herndon-based Comfort Keepers, spearheads this team of community leaders throughout each phase of the initiative.

"I highly recommend Ms. Reinhart to lead the Herndon chapter of Dementia Friendly America," said Herndon Mayor Lisa C. Merkel. "With her drive to enhance community awareness for persons with dementia and 16-year commitment to serving the Herndon-Reston area, her passion for senior care would only serve greater purposes statewide."
The Town of Herndon is one of 38 communities in the Dementia Friendly America network. The Dementia Friendly America initiative is a multi-sector, national collaborative of over 35 leading organizations that are catalyzing a movement and set of best practices to foster "dementia friendly" communities across the United States to improve opportunities and outcomes for a growing number of people with dementia, their families and care partners. Visit DFAHerndon.org.