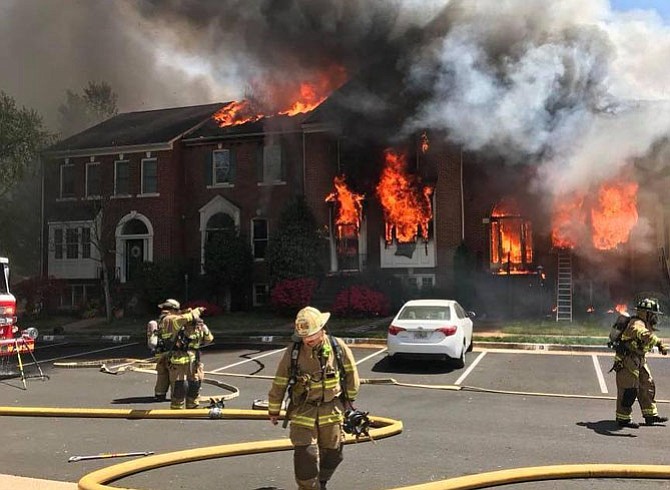 Jose Salazar was at work in Rosslyn last Wednesday afternoon, May 2, when his daughter called from their Centreville townhouse and said, "The first house in our row is on fire." Telling her to get out of their house immediately, he rushed to his parking garage to drive home.
When he reached his car, she called again to say the flames were almost on top of their roof. Believing help would be there soon, Salazar told her, "Don't worry, there's a fire station [Station 38] blocks away from our house."
Little did they know, however, that those firefighters were among 90 from that station and others busy battling a three-alarm fire at the Forest Glen Senior Apartments, just two miles away. Hours later, when the smoke settled and the flames were all extinguished at both sites, 12 townhouses in Salazar's Sully Station II neighborhood had been severely damaged, plus 75 apartments at Forest Glen.
The cause of the townhouse fires was still under investigation at press time, but damage is estimated at $2,273,712. The conflagration at the apartment complex began around 12:46 p.m. and, about a half hour later, around 1:18 p.m., firefighters were also dispatched to the two-story, attached townhouses in the 5800 block of Watermark Circle and the 1400 block of Beaumeadow Drive.
With two, parallel rows of homes becoming heavily engulfed in flames and one structure collapsing, they, too, quickly became a three-alarm event requiring help from other jurisdictions. About 100 firefighters responded and, although one firefighter was injured, his wounds weren't life-threatening.
"I've lived here a long time and I've never seen anything like this before," said Watermark Circle's Gina Ingraham, whose house is across the street from the destroyed townhouses. "It's like a bad movie." She was home when she heard a boom and looked outside.
"I saw a large, black funnel of smoke shooting straight up to the sky," she said. "It was in back of the end townhouse at the corner of Watermark and Deer Lake Lane. People were pounding on that door, but no one was responding. I didn't know if my house was going to survive, so I got my driver's license, laptop and cellphone and ran out to move my car away from those townhouses."
Ingraham also called 911 to report the fire. "But the line was busy, so I drove over to the fire station closest to our houses," she said. "But they were already gone to the fire at Forest Glen. By the time I came back, 5 or 10 minutes later, the fire had consumed the end unit and was halfway to the next one. That thing was crazy – like a monster; it was rampant."
Firefighters had also raced to her neighborhood by then. "They re-directed one Centreville unit here from Forest Glen because, at that time, they didn't know the intensity of the fire here," said Ingraham. "There were also fire engines from Loudoun County, Manassas Park and Vienna."
During the chaos, she discovered a young woman sitting under a tree on her side of the street, crying inconsolably. "I told her she had to move away from there and come with me because, with all the smoke, she couldn't breathe," said Ingraham. The woman was Andrea Salazar, who'd called her dad Jose to tell him about the fire. The day after the blaze, she said, "Our basement is flooded and the back wall of our house is melted."
"We have major water damage and smoke everywhere," added her father. "We're meeting with a restoration company to see what's salvageable and what's not." Salazar and his wife have owned their home seven years and, for the time being, they're staying in a hotel in Fairfax City. Still, he said, "Out of the 10 townhouses in our section, ours is the only one with a roof. It's a miracle."
David Lee, of RAM Construction, was among the insurance-company and home-restoration representatives on the scene Thursday. Standing in front of four sets of front steps leading to no-longer-there houses on Watermark Circle, he said, "We were called in yesterday by the insurance company for one of these homes before it collapsed. We were going to board it up and secure the property."
But, he explained, "With all the devastation – and the fact that the fire kept rekindling – last night the fire department knocked down the buildings. It was smart, because of safety; you don't want them to fall down and hurt people. I've seen five homes burn together before, but nothing like this – never this magnitude. It was like a tornado ripped through the neighborhood – but this is worse."
Solomon Shin lived next door to the Salazars for almost a year, and his house was one of those four that no longer exist. "There's nothing left," he said. "I lived in the basement of the owners' house and was home at the time of the fire. I always hear footsteps and noise upstairs, so when I heard them around 1 p.m., I didn't think anything of it.
"I was about to take a shower and saw lights flickering in my room. A minute later, I smelled something burning, so I went out the back door and the fence was on fire. And with the wind, I couldn't go out that way. So I grabbed my computer, cellphone, car keys and wallet – and whatever paper files I could – and shoved them in my backpack. Then I ran upstairs and, luckily, the front door wasn't on fire, yet, so I went out that way."
Also renting a basement, in a Beaumeadow Drive townhouse directly behind the Salazars, was Jhonatan Zelaes. His wife is a professional makeup artist who ran her business from home and was there at the time with a client. "Our landlord was bringing in clothing drying on her deck, saw the fire and told my wife," said Zelaes. "My wife then saved our two dogs and bearded dragon."
He was working in Manassas when his wife called him about the fire, so he rushed home. "There was a bunch of smoke, fire was showing and the fire department hadn't gotten here when I arrived around 1:45 p.m.," he said. "Now everything is wet and under water because of the firehoses. Everything is destroyed – my computer, tax papers, all our furniture. We didn't have rental insurance because we only planned to be here six months, and we were here a year. At least we're alive."
Bang Nguyen owns a townhouse on Watermark, across from the Salazars. His nanny and son were home when the fire began, and he raced home after she called him about it. He arrived around 2:20 p.m. and, he said Thursday, "The whole thing was burning. It was really bad and I was afraid it would spread [across the street]. It sucks; I feel terrible for all the people here. Yesterday was a crazy day. The firefighters kept spraying water until 4 a.m. today."
Fairfax County Fire and Rescue says some 36 people were displaced, but that number doesn't include those renting in the basements. "It's a shame – a lot of people are homeless now," said Fire Department spokesman Bill Delaney. "But our crews did unbelievable work. And the fact that no one perished and there were no significant injuries is phenomenal."
As for Jose Salazar, even though his daughter had alerted him to the blaze, he still wasn't prepared for what he saw when he got home. "I was shocked to see the homes behind and beside us engulfed in flames," he said. "The entire row was flattened, except for us. We were blessed by the grace of God."
Noting that the firefighters "came from all over – Arlington, Burke, Loudoun," he said, "They reassured me that everything was going to be all right. I was so impressed; they were amazing. They were still fighting the fire, and we had some important documents inside our house. So I spoke to the fire chief, and he let five firefighters go in and get them. They even went in a second time to get my [barefoot] daughter some shoes to wear."
Salazar also praised his neighbors. "It was wonderful how the community came together," he said. "They offered their basements for people to stay in." And at the shelter set up at the Cub Run REC Center for the fire victims, said Salazar, "People brought in water, pizza and snacks. One neighbor even handed out $50 gift cards to every family."
"What's really sad is that some of our neighbors whose homes burned didn't have rental insurance and they lost everything," he continued. "And one neighbor lost a dog, and that was sad, too." Regarding his own house, said Salazar, "This is just one of life's curveballs, so you've got to take it one day at a time." Then, pointing to his wife and daughter, he said, "I've got my precious valuables right here. Everything else is replaceable."