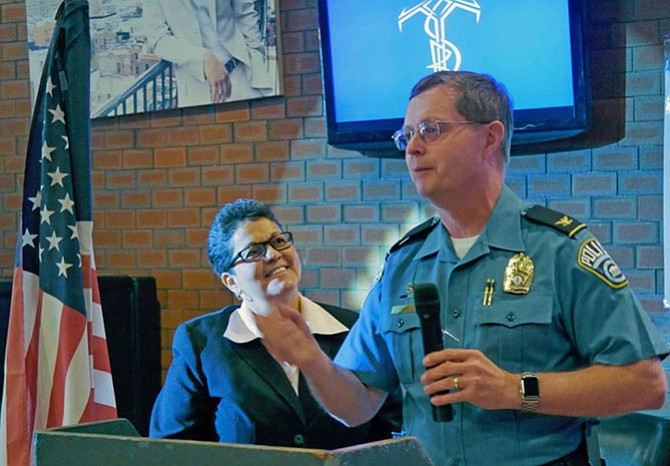 Police Chief Jay Farr presented the ACCS Law Enforcement Officer of the Year Award on May 9 to Master Police Officer Rosa Ortiz for her work on cold cases. Farr said during National Police Week he wanted to emphasize "it is justice to the victims we seek, not incarceration. Rosa speaks for those who can't speak for themselves." He pointed to a 1999 homicide that just had a successful prosecution due to Ortiz's years of persistent work.
Farr added, "The police are on the front line every day but the eyes and ears are you."
Ortiz told the group of police officers, community supporters and members of the Arlington County Crime Solvers (ACCS) Board that she has a passion for criminal investigation. She explained these cold cases get harder to solve as the years go by. Witnesses die, the suspect may die but the case is still unsolved.
Ortiz flipped slides illustrating cold cases that have been solved in Arlington. "She said, "There are 20 unsolved cases in Arlington. I have been blessed to be part of some closures. I try to get some sort of resolution for the victims. I know the county pays me but I work for the families."
Sheriff Beth Arthur addressed the group about the day-to-day mental health issues of those in detention with more people coming in with heroin. She estimated 170 incarcerated have serious mental health issues. Arthur added that the sheriff's office also works with the ACPD to solve cold cases.
The event was sponsored by the ACCS, which had been established to help resolve crimes. They fund two hot lines that allow community members to give anonymous tips to police. Andres Tobar, president of ACCS, said funding from donations is used to assist with the hot lines.
Lydia Robertson was also on the program. Her brother, Paul Zeller, was shot and killed 12 years ago while walking home from the Metro. She told the group, "The community rallied round and the police kept us updated. There was an extensive investigation but no one was found." After 10 years the family made the difficult decision to close the case and donated $5,000 to be used for rewards in successfully resolved cases. "We believe in rewarding people who come forward."