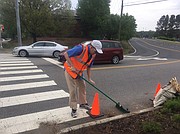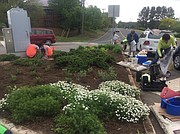 After efforts from area Girl Scouts, Boy Scouts and the Laurel Garden Club, the triangular island at Old Keene Mill Road and Sydenstricker Lane has a complete makeover as an honor to a car accident fatality from 1981.
The Boy Scouts from Troop 1849 in Burke came on last weekend in April, followed up by Kylie Mchale and Meena Lane from Girl Scout troop 5548 on Saturday morning, May 5. Meena's mother is the troop leader. "Getting to work together with other people is a lot more fun and interesting," Meena said.
"We get to build friendships," added Kylie. "I wanted to sleep in, but I wanted to do this too," she admitted.
The traffic island was completely weeded, mulched and replanted with mostly native plants as part of the garden club's "Plant More Natives," effort to use native species more often. The club got a grant from the National Garden Clubs association, which was "going to finance most of it," said Linda Nordstrom, a long time garden club member.
In May 1981, the plants on the island had grown tall, limiting the sight lines for motorists. This proved fatal for a 17-year-old, who was killed in a crash. The garden club, which has been around 50 years, adopted the island through the Virginia Department of Transportation and has maintained it ever since.
Woody Browne from Springfield manned the push broom, and was in charge of the Boy Scouts on Saturday, April 28 when they helped out at the garden. There were two old bushes, and "we dug them out," Browne said. Beautifying the island is about "civic pride, makes me feel good about being in this area," Browne said.
The plants they used included Butterfly Flower, Coneflower, Amsonia, and Spirea. Most of these are native plants but not all. "They are beautiful summer and fall flowers," said Nordstrom.
There is an electrical box, and one of the gardeners had an idea to paint it to match the garden, instead of just silver. In the City of Alexandria, electrical boxes like this have been painted in colorful schemes, and garden club members liked this idea. They plan on approaching Supervisor Pat Herrity (R-Springfield) about that.