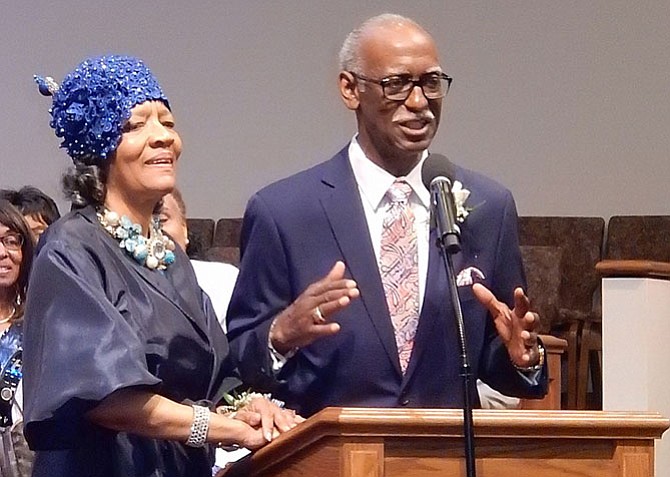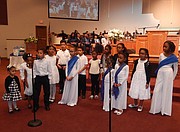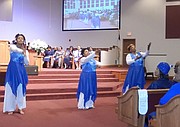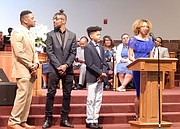 For more than a quarter century, the Rev. Eugene Johnson has been the guiding light and spiritual leader of Mount Olive Baptist Church in Centreville. But on Sunday, April 22, it was his turn to sit with his congregation and listen while others took the podium — and sang his praises.
For on that day, the church celebrated his 25th anniversary in songs, dance, speeches and prayers. The members did it with style, enthusiasm and, most of all, heart and gratitude for all their pastor has done for them.
During his tenure, Mt. Olive has undergone unprecedented growth in membership, ministries, outreach programs and financial stability. Johnson even put his architectural degree and experience to use when he helped design the church building and all six of its 18x7-foot, stained-glass windows illustrating Jesus's life.
Fittingly, the celebration began with the Children's Choir singing, "Yes, We Love Pastor Johnson, followed by the adult choir's version of "Wind Beneath My Wings."
"We are blessed to have a pastor after God's own heart," said the Rev. Pat Rather, the worship leader. Speaking directly to Johnson, she said, "You walked with us to the cemetery as we laid our loved ones to rest and prayed for us as we went into that operating room. You continue to cover us in prayer, and we're grateful to have you and First Lady [June] Johnson."
The Rev. Gregory Howard from Newport News noted that, "In our state Baptist general convention, whenever Pastor Johnson shows up, we all say, 'Here comes that cool cat. We're here to celebrate this 25-year union between pastor and people, and we praise and thank God for [Johnson's] labor outside these four walls."
Howard also described Johnson's wife as "the epitome of grace and elegance." And he said Johnson was able to lift up his congregation's burdens and spirit, while always knowing that his help comes from God.
Then Rather read congratulations sent from the U.S. Senate and Sen. Tim Kaine (D-Va.), saying, "The residents of Fairfax County are fortunate to have your vision and kindness. May God continue to sustain and guide you."
Lt. Gov. Justin Fairfax said Johnson "instituted a unique, Christian discipleship ministry that focuses on building individuals spiritually for God's service."
And U.S. Rep. Barbara Comstock thanked Johnson for his "commitment and devotion to Mount Olive, for the past 25 years. I, along with everyone else in the 10th District, know you've made your congregation proud."
Speaking on behalf of the church, deacon Chuck Coffin told Johnson, "We love you with all of our hearts and thank God for you, each and every day. God, with His providential wisdom, sent you to be our angel."
Noting that Johnson became Mount Olive's pastor in November 1992 and was officially installed there on April 25, 1993, Coffin called him "steadfast" and said the congregation is "blessed" to have him. The church ministry members then presented Johnson with several gifts, and the congregation gave him and his wife a three-day vacation at the Salamander Resort and Spa in Middleburg.
Next came Johnson's children, grandchildren and other family members. Son Kevin spoke about his father's faith and vision. And granddaughter Marley – who flew in for the ceremony from Providence, R.I., where she's attending college – praised Johnson's quarter century of "faithful service, long nights and early mornings.
"He puts so much effort and time into it because he loves God, this church and all of you," she said. "I remember when this church was really small and held services in middle and high schools, and then, coming to this beautiful church for the first time. Congratulations."
Grandson Jadin told Johnson, "You've worked hard and done many things for me, and you're the best preacher I've known. Thank you for everything, and I love you."
Son Brian stressed "the dedication and earnest, hard work our pastor puts in. So much goes on behind the scenes that no one knows about."
Johnson's brother, Bishop Wilfret Johnson, said the Johnson brothers are all pastors, as was their father, Horace. "We're a faithful family, just as he [Eugene Johnson] is a faithful pastor. He causes us to lift our heads higher, and he's taken his message to North Carolina and to Africa. We were all born by a river, and now I say, 'Roll on, my brother; keep on running.'"
"What he's done for this church, he's done for my family," Johnson's sister, Birdel Spears, told the congregation. "He's baptized and married people and been in hospital rooms and at gravesides. This is your anniversary, and I and my family appreciate all you've done for him."
Next, Spears's daughter, Drenica Brunson, thanked her uncle for his influence in helping her start her professional career, adding, "You've been there to baptize and christen my babies, and I love you immensely." Then Johnson's sister, Diana McClain, said how happy she was to be there for the celebration. And Jhelisha Clyburn, the event's chairman, thanked everyone who helped plan it and called it a "labor of love."
June Johnson was grateful for "what God has done for this pastor." To her husband, she said, "I see the love of God in your heart, so I feel the love of God in my soul." And to the congregation, she said, "I love him and know that the steps of a good man are honored by God. God put us together and, for 25 years, we've faced joys, sorrows and happiness."
Then Eugene Johnson, himself, addressed everyone. "I feel very privileged and blessed," he said. "God is to be praised for all He's done and for allowing me to be here for 25 years." He thanked those close to him, his ministerial staff, the choir and deacons, plus the Rev. Curtis Stewart, who was present for Johnson's first sermon at Mount Olive and returned for the anniversary celebration.
Also there were some members of St. Luke Baptist Church, where Johnson first preached. Thanking his family, he said his wife calls him the "wind beneath her wings," but "She's the groove in my swag. God gave me the person I needed because, if it hadn't been for her beside me – and all her support – I couldn't have done what I did." And with a nod toward his congregation, Johnson also acknowledged the late Mary Naylor, who called him after he'd been confirmed as Mount Olive's new leader and told him gleefully, "Rev, you my pastor."
After the ceremony, some church members explained why Johnson is so special to them. "What's impressed me is his dedication and commitment as a leader," said the Rev. Woodrow Cooper, an associate minister there. "He's always striving to encourage those under him to be better, and he exhibits a sacrificial lifestyle in his devotion to this church."
Mary and Chuck Coffin have been members for 25 years, and Johnson baptized their youngest son, Lorenza. "Mary Naylor told us to join this church; she said we'd be a good fit," said Mary Coffin. "And we became close friends."
Calling Johnson a "people person – truly concerned, faithful and honest," she said, "It's awesome to have a pastor like him for 25 years; we are unbelievably blessed. He doesn't just know you as a member, but your whole family. Even when family members have passed, he's gotten on a plane or driven to be with the family."
Agreeing, Jenna Burkette said, "He drove to Mississippi to visit my mom in the hospital and returned for her funeral. And when I taught music at Lees Corner Elementary, he'd go to our school music programs. My three sons and I joined Mount Olive that Easter Sunday in 1993 [when he was officially installed]."
Chuck Coffin recalled deacon Calvin Word's death last winter. "Pastor Johnson was supposed to go on a mission trip to Ghana in November," said Coffin. "But he decided instead to be here to comfort Calvin and his family as his death approached. And it's these decisions that show his compassion. He's calm and cool and always knows what to do."
A member since 1989, Beverly Williams said, "We love and honor our pastor because he's a man of God and does what the word of God says. You can tell about a person by how he loves in time of crises, and he's been good to me and my entire family. My daughter flew up from Charlotte, N.C., for this celebration, and she told us it's because she's his favorite parishioner. We know she's not, but that's how he makes all of us feel."