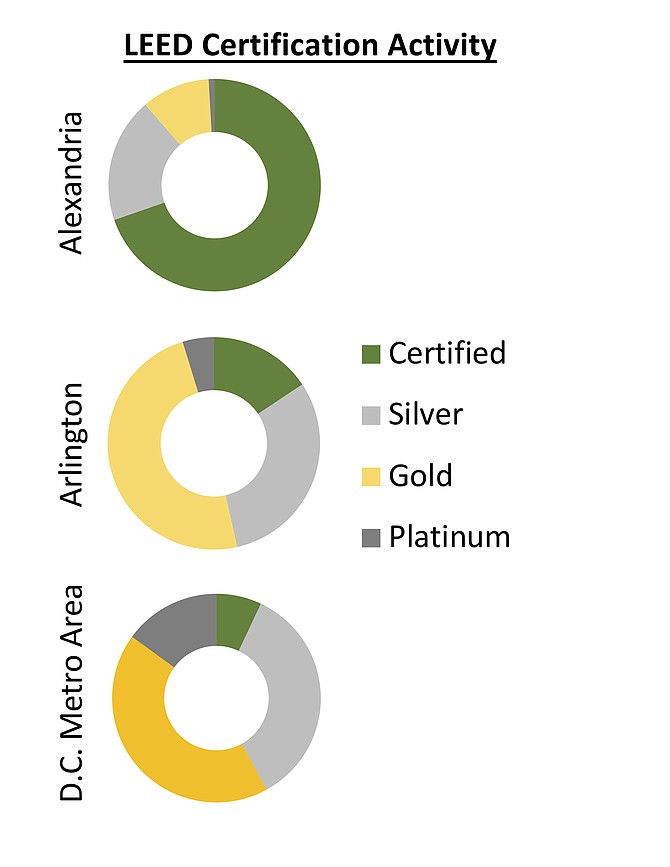 On Tuesday, May 22, City Council heard draft recommendations about overhauling local environmental policies, which a local commission says haven't kept pace.
Since September, the Environmental Policy Commission (EPC) has been working on updating the city's Environmental Action Plan (EAP). The update, deferred since 2014, comprises two phases over two years. On Tuesday, council previewed the first phase revamp in order to provide feedback before the EPC delivers final recommendations in the fall.
"One pervasive policy theme" so far is "the fight against global climate change," said EPC Chair Jim Kapsis. "There is plenty we can do here in Alexandria, including ensuring the city is procuring 100 percent carbon-free energy; increasing tree canopy to reduce the 'heat island' effect within the city; and integrating carbon accounting into our budget process so we can actually quantify the climate impact of our investments."
Alexandria's stated goal of reducing greenhouse gas (GHG) emissions by 80 percent by 2050 requires more decisive action, says the EPC.
A chief recommendation is that the city needs to update its green building policy — its suite of regulations and incentives for developers to build more energy- and water-efficient buildings.
Nationwide, "buildings account for almost 40 percent of national [carbon dioxide] emissions and out-consume both the industrial and transportation sectors," according to an earlier EPC draft report
"The [city's current] green building policy applies only to commercial buildings and to multifamily buildings. We have no green building policy for single-family, for historic buildings, for major renovations that happen in the city, of which there are many. The ambition level of our green building policy for the private sector is well below … our neighbors," said Kapsis. For example, Alexandria lags the metropolitan area in projects with higher LEED ratings. This "is largely … because our policies are not where they ought to be. We had a great policy that was very progressive when we first implemented it. We just haven't updated it. And other jurisdictions have."
One specific idea is to provide an incentive to developers to speed up the permit approval process in exchange for building at some higher standard.
Kapsis quoted a local single-family home builder: "Time is money in my business. … If a builder like me could make a commitment and have an avenue to an expedited permit approval, I think [other developers] would get onboard."
New public buildings could also meet a higher standard. For example, the EPC pointed to Discovery Elementary School in Arlington, a net-zero energy facility. The school, the largest of its kind nationwide upon opening in 2015, uses solar and geothermal energy, solar thermal water heating, and a variety of other green technologies.
The EPC also recommends buying more Renewable Energy Certificates (RECs) to offset public facilities' consumption of dirty electricity. Eventually, Alexandria could partner with other jurisdictions and a developer to build and buy directly from a solar or wind farm, under an arrangement called a power purchase agreement.
"Buyers like Amazon and Microsoft have achieved agreements exactly like this within Virginia. … We believe that [such deals] are at and approaching cost competitiveness with the energy we already buy," said EPC Vice Chair Praveen Kathpal.
The EPC also recommends "that we orient all of our solid waste efforts towards reducing emissions from that waste," said Kapsis.
Counterintuitively, that would mean removing glass from the city's single-stream recycling program. Even though it goes in the blue bin, Alexandria's glass still ends up in landfills. That means "additional emissions due to the redundant transportation of this heavy material," according to the earlier draft. Responding to some incredulity from Mayor Allison Silberberg, who called the city's single-stream recycling "phenomenal," Kapsis said: "We should be recycling glass, I totally agree. But the only way to do it economically and in an environmentally safe way is to separate it."
Similarly, the city's composting program results in net GHG production, since it involves trucking material to Prince George's County.
Council members received the discussion mostly positively, but want to see more about budget impact.
"We are in an environment where the needs of the schools and even the city's infrastructure, as well as affordable housing, kind of takes the air out of the room," said Councilwoman Redella Pepper. "There's going to have to be some prioritizing" in the EPC's recommendations.
Information on fiscal impact will inform "how fast do we want to get there?" said Councilman John Chapman.
Find more information at www.alexandriava.gov/EnvironmentalPolicyCommission and www.alexandriava.gov/Eco-City.