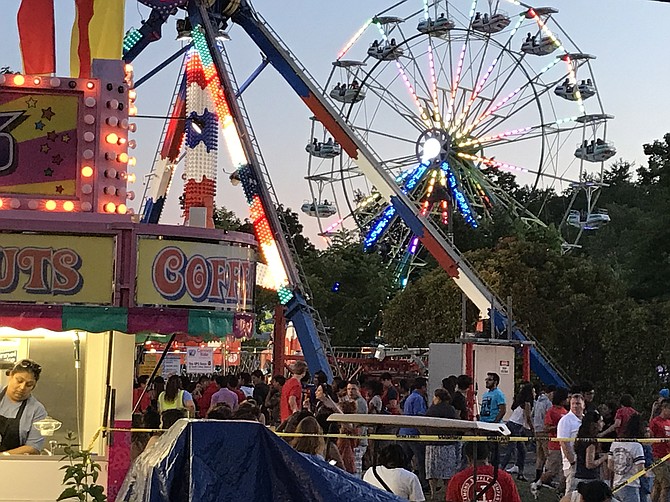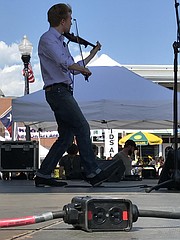 Downtown Herndon's Historic District is the destination this Thursday, May 31 through Sunday, June 2 for one of Northern Virginia's top free and much loved outdoor festivals, the acclaimed and award-winning Herndon Festival, now in its 38th year. First produced in 1981 at the suggestion of town resident, Arno Randall, the celebration has grown from a one-day to a four-day rock-solid event and is now produced by the Town of Herndon Parks & Recreation Department with assistance from area civic organizations and businesses.
While this year's Herndon Festival 2018 Entertainment Lineup features three stages of free performances and a carnival of spectacular thrills, it also offers Kids 'Ally with a children's hands-on art area, high-quality craft and food vendors, a Business Expo, fireworks on Saturday night, 10K/5K Races & Fitness Expo and more.

If that is not enough, organizers are mixing things up a bit this year to make Herndon Festival 2018 more prominent and better than ever with additional family-fun. Be sure to visit Friday evening from 5:30 p.m-6: 30 p.m. when two special events appropriate for children 3 and up are sponsored by F.H. Furr Plumbing, Heating, and Air Conditioning & Electric. There is the "Kids' Car Creation," where children can create a cardboard "Flintstone-like" car they can wear and a Puppet Show.
Entertainment
Festival opens at 6 p.m. Thursday night. After getting dinner and drinks from any of the food and beverage vendors, festival goers can bring them over to the Herndon Municipal Stage area located behind the Municipal Building at 777 Lynn Street. Say hello to one of the hottest rising country groups at 7:30 p.m, the all-female, Farewell Angelina named among Rolling Stone's "New Artists You Need To Know," and Roughstock's "Ones to Watch." On Friday, rock out to the premier tribute act, Almost Queen, a four-piece band billed as "the most authentic Queen live show since the days of Queen themselves."

Saturday features Roomful of Blues, a recognized leader in their genre and recipient of five Grammy nominations. Returning to Festival by popular demand is The Hunts, seven native Virginia siblings who, as billed on their website: "pour their blood, sweat and tears into every song and strive to write music that moves hearts with beauty, power and joy."
On Sunday, Festival presents a trifecta of great bands - Three Sheets to the Wind, Kstone4U, and the culminating Festival performers, from 4-6 p.m. on the Depot Stage, Good Shot Judy, Williamsburg, Va's most excellent big amp jazz band producing high-energy Latin dance music.
Carnival
Of course, Carnival returns to Festival with more than a dozen rides and a main street of games. Tickets can be purchased for one ride at $1.25, a book of 30 tickets at $30 and a book of 50 tickets for $45. Organizers announced: "Separate "all-you-can-ride" wristbands are available for Thursday from 6 p.m-10 p.m, Saturday from 10 a.m.-2 p.m, and Sunday 10 a.m.-6 p.m. Thursday all-you-can-ride wristbands are available pre-sale at the Herndon Community Center and can only be used for Thursday. For Saturday or Sunday, wristbands can only be purchased at the carnival ticket booths."
Children's Activities
The Herndon Festival 2018 offers a variety of free arts and entertainment activities for children. The ever-popular Children's Hands-On Art Area and Kid's Alley return, located at the corner of Station and Lynn Streets. Arts Herndon will produce free family-friendly art activities open to children of all ages on Saturday, June 3, 10 a. m. -5 p.m. and Sunday, June 4, 11 a.m-4 p.m.

Fireworks
What would Festival be without Fireworks? This year, the fireworks display is a one-night-only spectacular, and it is choreographed to music. The show starts around 9:30 p.m. Saturday. There are no fireworks on Thursday night as in previous years.
Vendors/Business Expo
Food vendors will be on hand during Festival hours offering a multitude of snacks, meals, and drinks. Arts and Crafts vendors are on site only Friday, Saturday, and Sunday of Festival, June 1-3; and the Entrepreneur Expo will be Saturday and Sunday, June 2-3.
10K/5K Fitness Race
The race is Sunday morning June 3, 2018. Herndon Parks & Recreation states, "The race course takes you through historic downtown Herndon. Both the 10K and 5K courses are USATF certified. Awards are presented to the top two finishers from each age group from the 10 & under, to 70 & over...Following the race, participants can enjoy refreshments, door prizes, music, and an award ceremony.... (Participants) can register through the Herndon Parks and Recreation Department Webtrac or Active.com."
Free Shuttle Bus Service
Free shuttle service is available to Festival goers at Worldgate and Herndon High School. Event organizers strongly encourage attendees to ride the shuttle bus, use the free bike valet, or walk to the Festival.
Public parking in the area is limited.
Security
The Herndon Festival has visible and not so apparent measures to mitigate crowd control and take security measures. The Herndon Police will be present and pair with other police jurisdictions. All festival goers are subject to bag checks at the entrances.
For more information about Festival or to volunteer, visit www.herndonfestival.net