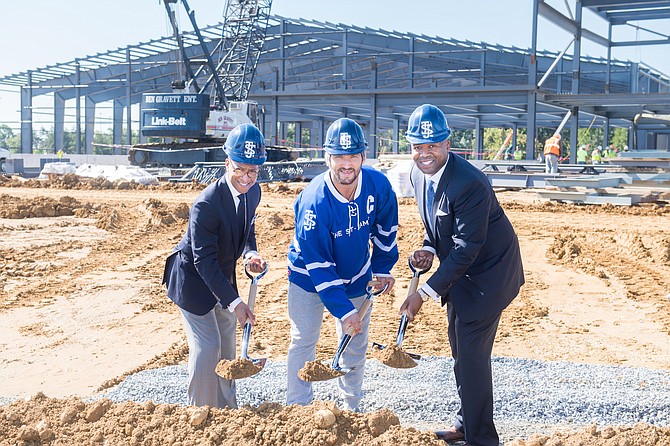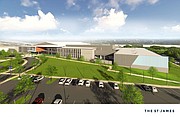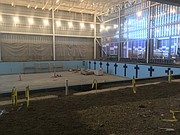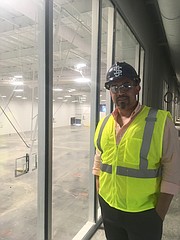 Now that the Washington Capitals are in the Stanley Cup finals, wannabe hockey players in Northern Virginia may be fantasizing their next stop to be part of the National Hockey League and hoist the cup above their heads one day. The new St. James Youth Hockey Academy could be part of those fantasies too. When it opens in September 2018, the 450,000 square-foot building will feature two NHL-sized hockey rinks, Olympic-sized pool, basketball courts, golf, baseball, football and soccer training facilities for "maximizing human potential," St. James officials said.
"If there's a place to become the next Alex Ovechkin, it's the St. James, right here under one roof," said Rob Kram, sales manager at the St. James Wellness and Sports. In fact, Ovechkin is a member of St. James as well.
They are strategically located between Edsall Road and the Capital Beltway in northern Springfield so they can attract athletes from all over the area.
ONE PART of their plan is to provide professional training to children and teens so they can go to the next level in their sporting field of choice, and possibly get a college scholarship or right into the pros. Although there's a small percentage of children that actually make it to the professional sports level, there is college scholarships or even just becoming a fully rounded child growing up with a sporting background. "We want people to be able to pursue their passions," Kram said.
Tim Graham is the hockey coach at St. James and will be at their first tryouts on June 2 and 3 at the Rockville Ice Rink in Rockville, Md. They'll be getting players for the St. James team that will be starting their inaugural season in the fall of 2018 when the facility opens. "This is a great opportunity to create a program from the ground up," he said. Graham played at Middlebury College in Vermont over 10 years ago, and was a skills coach for the Reston Raiders from 2012-2017. He currently lives in Sterling but may move to the area as the season gets closer.
Initially, the St. James hockey team will be in the independent league, like the Reston Raiders, but may join the Chesapeake Bay Hockey League in the future. At the tryouts, in Rockville, Graham will be looking for enthusiasm and the willingness to learn. "It's easy to see the people that want to be out there," he said. Graham's students have gone on to play for the U.S. Olympic team and Division I colleges, including Penn State and Yale, among others. In addition to Graham, the Academy features a team of hockey coaches with experience at the youth, collegiate and professional levels including Vermont native Brady Leisenring who will serve as The St. James' Director of Hockey Coaching while working alongside Chris Warren, a Northern Virginia native and former coach, and Kyra Herbert, formerly of the North America Hockey Academy (NAHA) in Vermont, St. James information said.
John Rader, the coach of the Northern Virginia Ice Dogs, has been in contact with St. James already about playing with the teams at St. James, but "they're keeping their ice for only members and internal teams," Rader said. The ice facilities around the county do get full, and another place to play hockey would benefit the overall picture, he said. There will be players moving from existing clubs to St. James, "which is a benefit to many individuals and would relieve some of the pressure on clubs like ours," he said.
In addition to teaching sports and forming teams at St. James, "we also want to develop good human beings," Kram added, pointing out some bad choices today's professional athletes have made which may have been avoided if some kind of individual development was instilled along the way. One professional football player he pointed out was Aaron Hernandez from the New England Patriots that got into gang trouble, landed in prison and committed suicide. "It all starts at the youth," Kram said.
Youth training and providing options is what St. James has on the brochures.
INSIDE THE CLUB, there are wide open spaces where basketball teams form, hockey is instructed and the competitions take place. It has the potential to be a one-stop shop for the sports-oriented family. The children hit the courts under the watchful eye of professional coaches, while the parents look on from the sitting areas where food and drink can be ordered. "People can literally spend the whole day here," Kram said.
There is a price for this kind of sporting atmosphere as well. A single would pay $169 a month, or a family of four could be part of St. James for $300 a month. Joining teams or specialty programs will be an additional charge.
When the facility opens in fall 2018, their facilities will be available to anyone willing to pay for it, so that may put their training expertise out of reach for the up and coming high school quarterback, or maybe not. "This is a high end product," Kram said, "if a coach wants to send a particular athlete, somebody has to pay for it." Kram did not mention any kind of sliding scale.
In addition to all the sports training facilities, there will be an area for gaming, laptop e-center, yoga, massage, botox, a bar and restaurant all under one roof. The Springfield St. James is their prototype, and company officials have been in talks to expand to Chicago, Houston, Los Angeles and another location in Virginia, but no solid plans have been set yet.
More Info
Players interested in The St. James Hockey Academy can find additional information regarding tryouts at https://go.thestjames.co/ice-hockey3. Tryouts will be held on June 2 and 3 at the Rockville Ice Rink in Rockville, Md. Register by visiting The St. James sales studio at 6805 Industrial Road, Springfield, or by calling 703-239-6870.