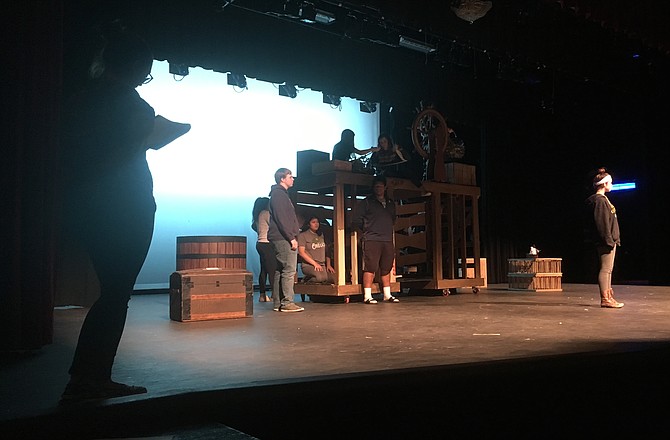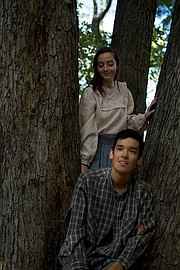 The first installment of Oakton High School's Fall performance season begins with its production of "Peter and the Starcatcher," a prologue to the much loved "Peter Pan." With performances scheduled on Nov. 8, 9, and 10 at 7 p.m., the Theatre Arts Department was hard at work after school on Oct. 29.
"Because we have a lot of students, I try to pick shows that have big casts," said Vanessa Gelinas, Oakton's Speech and Drama teacher. "We started reading a lot of plays, but 'Peter and the Starcatcher' was one I had seen on Broadway, and knew how much fun it was. The kids read it and loved it!
There are about 40 kids that are involved."
SO STUDENT-DRIVEN is the show, that even the directors are students.
"I had to turn in an application of my idea for the staging and character choices, which is how I got chosen for director," said student-director Emma Shacochis. "Then, during the first two-three weeks of school we just went through auditions and we chose scenes between the characters who interact the most, and in the end we chose these three."
"This is actually my first year of drama," said senior Rachel Bloom. "Because this is my first lead," said Bloom, "It's just been really fun getting involved. I get to interact with every character, and be in almost all the scenes, so there's a lot I get to do and experience in the show."
Bloom plays the part of Molly, the daughter of a Victorian Lord and, in later works, mother to the character Wendy. While aboard the ship The Neverland, a weather-beaten vessel containing precious cargo belonging to the Queen, she meets an orphan who goes only by "Boy."
"I was in a couple shows last year, but they were more minor roles," said Gabe Villarroel, who plays Boy. "I didn't do much in terms of being active – jumps and all that. So, definitely this is more than last year!"
"I would say the physicality of the show is super important to it," said junior Max Branciforte. "A lot of the creative aspects that we can put in and make our own end up being super physical."
Branciforte plays the part of Black Stache, the younger version of Captain Hook and main antagonist of the show.
"It can look weird if it's not done correctly," continued Branciforte. "I think that's something Oakton and the Theatre Department prides itself on is that when they come there's kids doing a lot of professional things."
ESSENTIAL MEMBERS of the crew are student-musicians and brothers Nathan and Peter Guevara. With an array of instruments including but not limited to a drum set, multiple keyboards, and a violin, the Guevara brothers will be handling the production's live music.
"There's a bunch of weird sound effects," said Nathan, who had just moments before recreated the sound of a creaking door using his violin. "The hardest part has probably just been learning everything in such a short amount of time and doing everything together, but we'll make it work."
In what can be considered proof of the creativity and determination of the entire cast and crew, Peter held up what looked like part of a broken pogo stick.
"I made this instrument," he said.
As he held the large black cylinder connected at its base to a loose spring, he explained that it was a "thundertube." He then grabbed the end of the spring, and as he shook it, the unmistakable sound of rolling thunder was emitted from the top of the cylinder.
To catch this comedy curated almost entirely by creative local youths, stop by one of the 7 p.m. shows on the Nov. 8, 9 or 10 at Oakton High School. Visit oaktondrama.org for ticketing and information.