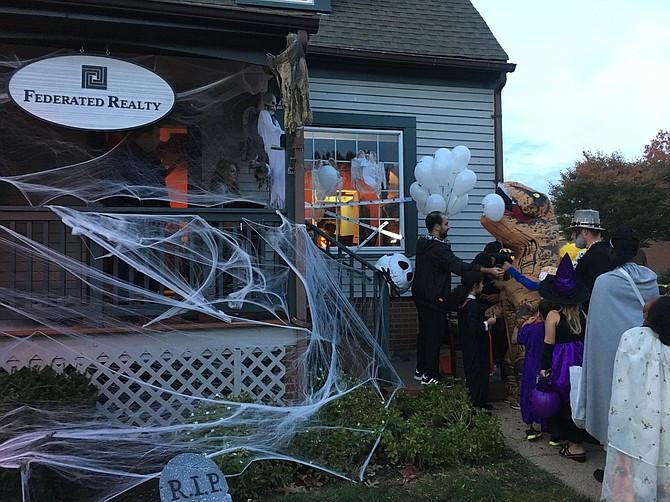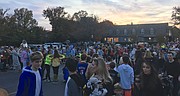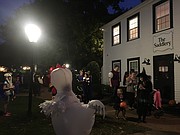 As dusk rolled in and throngs of ghouls and ghosts gathered at the Great Falls Village Centre Green, a boisterous commotion of excited trick-or-treaters and the Langley High School Band permeated the ether.
The event was put on by Celebrate Great Falls, a non-profit community organization that aims to help local citizens in need and to put money back into the Great Falls community through events like this one.
Per the Celebrate Great Falls website, the Spooktacular was launched more than 20 years ago by members of Great Falls Friends in order to provide younger children with a central and convenient place to trick-or-treat.
"In Great Falls, everyone lives in the woods," said Great Falls resident and Village Centre Green property owner Lauren Mencia. "Very few have neighborhoods, so this is our way of making a small 'Hallmarkville,' you know?"
On Wednesday evening, children 12 and under were encouraged to don their costumes as merchants both on the Green and in the Safeway shopping center across the street at the corner of Georgetown Pike and Walker Road handed out candy. Some merchants even converted their storefronts into haunted houses.
Adjacent to the Langley High School Band's performance in the Green's main parking lot, members of the Fairfax County Fire Department parked two of their engines and made themselves available for the public.
"We were asked by the volunteers to come out here and show a presence," said firefighter Dan Park. "The kids obviously like seeing the trucks."
By the time darkness had set in fully, bags and young hearts full of candy and excitement left in eagerness to tally their winnings.
"You should come back for the tree lighting," said Mrs. Mencia.
A full schedule of Celebrate Great Falls events can be found at celebrategreatfalls.com.