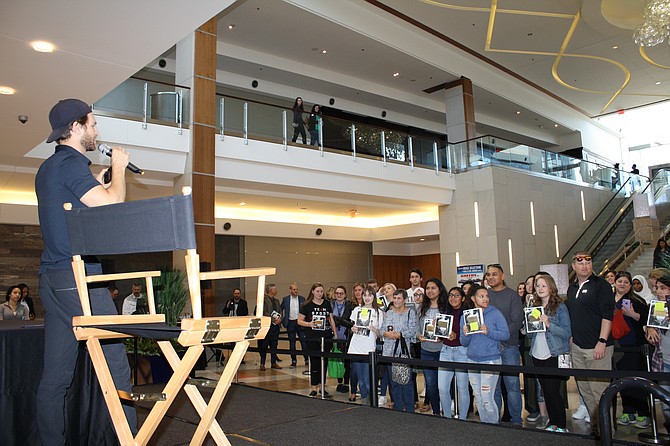 Springfield — Hollywood actor, writer and photographer Keenan Allen talked about his favorite photo that is on the back cover of his new book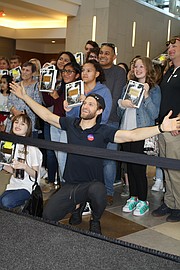 "Hollywood: Photos and Stories From Foreverland," at a recent book signing at Springfield Town Center. He was taking a picture of a sunset in Hollywood, his hometown, but wasn't sure he had the settings right, so everything was out of focus except the sunset, which he was focused on in the first place. "I blocked out all the craziness of Hollywood and focused on the sunset," he said. "I wanted to highlight that in particular."
The crowd of about 100 teenage girls hinged on his every word, clutching books and flashing smiles at the star, who just finished his seventh season of "Pretty Little Liars," hit television series. When he's not in front of the camera, he practices his hobby of writing and photography. At age 11 he was inspired to write "Hollywood," and after six years of working on it, the finished product was the focus of his book tour.
The book has his impression of Hollywood, and contains a lot of the street performers and less famous people that are hoping for that big break. He wanted to show it as it is, without any point of view, and let people get their own impression. "There is a responsibility to portray your own point of view," he said, but admitted that he was "worried about my prospective getting in the way," he said. "I wanted to take people on a journey through Hollywood without telling them how to feel," he said.
His view from the street provides a certain perspective he was going after. "Everybody just wants to be appreciated, I took the time to look people in the eye," he said.
Sophie Runia, 14, liked that about him. "It's very cool, that's a good thing, everybody should be independent," she said. Runia is a freshman at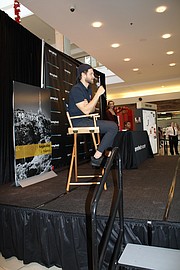 West Springfield and related to the book.
Mount Vernon residents Rachelle Deleon, 14, and Lizbeth Ramirez, 16, clutched their signed copies as they came off the stage. "I like how he's an artist dedicated to his work," said Ramirez.
Allen grew up in the social media era and worked it into this event as well. He posed for selfies with everyone and before the signings, got down with the crowd for some pictures and video. "We're on his Instagram," said one girl who came up from Fredericksburg to see him and had her Instagram on throughout the event. Allen has 6.4 million followers, she said. "I'm about to cry."
Allen had an arts background since he was a child, and his parents were immersed in the artist scene in California. At age 13, he was in an independent film on Animal Planet, and went on to study video production in high school. In addition to "Pretty Little Liars," he's been on "Young and Hungry," in 2015 and "CSI: Crime Scene Investigation," in 2011.