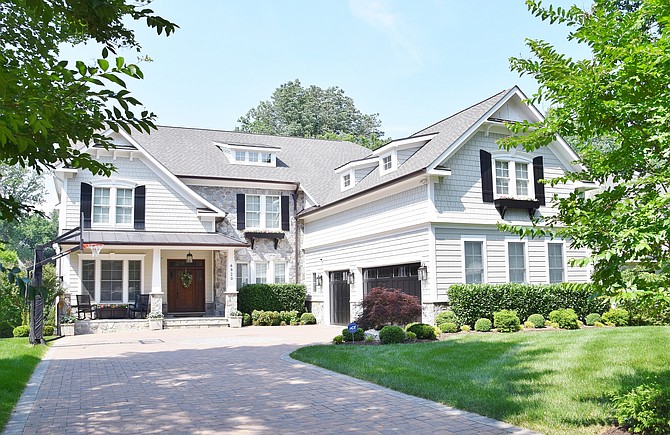 The McLean's Woman's Club's Holiday Homes Tour, set for Thursday, Dec. 6, from 10 a.m. to 3 p.m., is a 52-year tradition. This year, it will focus on four large, elegant homes in varied styles on large lots in sought-after neighborhoods – Langley Forest, River Oaks, Odrick's Corner and McLean Hamlet.
In addition, the tour house in River Oaks will host a Holiday Boutique selling jewelry and accessories, handmade wreaths and gift baskets.There will also be a raffle of gift certificates from First Stage, J. Gilbert's, Ruth's Chris Steak House, Clyde's, Fleming's, Smith's of Bermuda, The Village Grill, The Lebanese Tavern and other local businesses.
State Sen. Barbara A. Favola (D-31) will serve as this year's Honorary Tour Host.

All proceeds from the tour will benefit local charities, such as Share, Inc., Second Story, Capital Caring, The McLean Project for the Arts, Claude Moore Colonial Farm, Fisher House and the McLean Volunteer Fire Department, as well as used for scholarships and education.
Ticket booklets are on sale at Mesmeralda's of McLean, Karin's Florist, in Vienna; and Great Dogs of Great Falls and will also be available at the tour houses on tour day. Cost is $30 before Dec. 6 and $35 on that date. The ticket booklet contains house addresses and descriptions, plus an area map. Ample street parking will be available near each house.
House 1 in Langley Forest: This 6,800-square-foot Colonial was built in 1986 on a 0.8-acre lot and has been added to and updated several times, including creation of an open floor plan between the kitchen and family room. The home has five fireplaces, six bedrooms, five full baths and one half-bath, an attached garage, a wood deck, a large pool and an open porch. The renovated lower level walkout contains a theater room, an exercise room and wet and dry bars.

House 2, River Oaks: This residence, custom-built in 2014, sits on a flat, half-acre lot in an area known for its pastoral environment, mature trees and rolling hills. The 10,000-square-foot home has an open floor plan with two kitchens, a morning room and a formal living room. Ceilings on the main level are 10 feet, and those on the second and lower levels are 9 feet. There are six bedrooms, a multifunction lower level and an oversized deck and screened patio.

House 3, Odrick's Corner: This imposing home was built in 2003 on the site of an 1872 farm owned by Alfred Odrick, a former slave. It was the model for the Bellmeade subdivision off Lewinsville Road and has seven bedrooms and six and one-half baths. Visitors enter through handmade, bronze double doors to white marble flooring and four chandeliers in the foyer and dining room. The house will be extensively decorated, in keeping with family and Christmas traditions.

House 4, McLean Hamlet: This lovely, traditional Colonial sits among varied home styles along tree-lined, winding streets. Since it was built, the home has been altered and upgraded numerous times. A long brick walkway welcomes you to the home and its marble-floored center hall. To the right is the formal dining room; to the left is the living room. A master bathroom suite and a fourth bedroom were added, plus a sun room overlooking a landscaped backyard with patio. The home has a spacious lower level and an attached garage.
McLean Woman's Club: www.mcleanwc.org.