Coats, shoes, blankets and food are a few of the essential resources everyone in Reston needs. For many in this community where it appears most people meet their basic needs and beyond, there are those individuals who work two and three minimum paying jobs and are faced daily with choices on which basic need to buy with their limited dollars — food, coat, shoes for their children or themselves, heat, bus fare, rent. For those financially fragile, there isn't enough money to make ends meet, let alone spend on gifts.
There are many ways to help in Reston right now.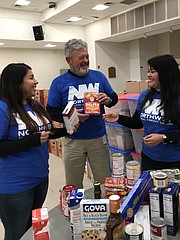 NWFCU Supports Cornerstones' Thanksgiving Food Drive, St. John Neumann Catholic Church
Northwest Federal Credit Union employees Stephanie Smith, Stefany Zambrano and Hap Peterson volunteer for the Cornerstones' 2018 Thanksgiving Food Drive at St. John Neumann Catholic Church in Reston, one of six distribution sites throughout the area supporting this season's drive. The giving attitude of the volunteers in the local area will help make Thanksgiving dinner a reality for the 1,000 families Cornerstones expects to serve.
"The typical family is one that makes far less than the area's median income. A lot are visitors to our pantries and this is an incredibly expensive area to live," said Nate King of Cornerstones. "Eighty percent of our clients are below the national poverty level," said Anne-Lise Quinn of Cornerstones.
"When donating food in the future, please be sure to check the expiration date because we cannot use expired food," urged Susan Alger of Cornerstones.
RCC & GRCC Support Cornerstones' Thanksgiving Food Drive
Reston Community Center, Greater Reston Chamber of Commerce and Cornerstones collected non-perishable food and essential items to assist the needy during the annual Thanksgiving Food Drive held Nov. 1-19 at several drop-off points in the area such as this one at RCC Lake Anne 1609-A Washington Plaza, Reston.
Barbera Foundation Serves Thanksgiving Feast to 300 Elderly
On Thursday, Nov. 22, the Barbera Foundation in Reston is serving a home-cooked Thanksgiving Feast to 300 elderly at the Reston Hunters Woods Fellowship House, part of the Fellowship Square Foundation which provides affordable housing and supportive services to low-income seniors and people with disabilities in Northern VA and DC.
Opportunities Await to Give and Receive
Gifts For Kids Drive, Cornerstones
Cornerstones is helping to make local children's holiday wishes come true.
To register for this drive visit www.cornerstones.org, search for the gifts for Kids Donation Form. Fulfilling wish lists for teenagers and senior citizens is especially appreciated. Cornerstones will distribute personalized wish lists within two business days of submission. Contact nate.king@cornerstonesva.org for more information.
2018 Santa's Ride, Fairfax County Police Motor Squad
The Reston District-Fairfax County Police Department at 1801 Cameron Glen Dr. Reston, select community schools and other sites are supporting the 17th Annual Santa's Ride presented by the Fairfax County Police Motor Squad. Toys, games, books and gifts are being collected to be distributed to children at Fairfax Hospital, Georgetown Lombardi Cancer Center, and children in need. The officers are accepting unwrapped donations at all district police stations including the Reston District Police Station, at the following schools- Colin, Greenbrier East, Spring Hill, Groveton, Terraset, Holy Spirit, St. Ambrose, Oakwood and Pender, and the lobby of the Pennino and Herrity Office Buildings and the Government Center no later than Monday, Dec. 10, 2018, 9 a.m. Fairfax County Police say online, if you see Santa and his helpers on motorcycles riding throughout the County visiting elementary schools, spreading holiday cheer, give them a wave and honk your horn.
"Inaugural Wishes Through Windows Benefit," HB Services
Local art muralist, Keith Naquin, paints a window frame given to him by Harry Hink of HB Services for its "Inaugural Wishes Through Windows Benefit." This is an auction of old windows turned into works of art to raise funds for Ellie's Hats, a 501 (c)(3) organization that provides hats to pediatric cancer patients and their siblings and also fulfills local "wishes," helps families financially and provides escapes for the children and their families. The benefit auction is Nov. 30. For ticket info visit www.eventbrite.com/e/wishes-through-windows-tickets… If you cannot attend but would like to donate, visit www.facebook.com/events/279898612561956/. "I wanted to get involved, as it seems a small, positive contribution towards aiding kids with cancer in an artistic fashion. I've contacted several local high schools …(which) offered to take on a handful of windows for the cause," says artist Keith Naquin.
Winter Coat Drive and Distribution, Hunter Mill District Supervisor's Office
A coat drive and distribution are underway by the Office of Catherine M. Hudgins, Hunter Mill District Supervisor, through a partnership with Cornerstones. Donations and distributions are Tuesdays and Thursdays. from 4-7 p.m through Jan. 17, 2019. Bring to the community room at the Hunter Mill District Supervisor's Office, 1801 Cameron Glen Drive, Reston or receive from there new or gently used, clean coats and jackets and new hats, gloves, mittens and scarves for all ages.
1,000 Christmas Care Packages & Christmas Cards, Barbera Foundation of Reston
On Sat., Dec. 1, 2-3 p.m., the Barbera Foundation of Reston will meet at the clubhouse 1713 Ascot Way, Reston to kick off its 1,000 Christmas Care Packages & Card Drive. The nonprofit organization is seeking non-perishable food, winter clothing, "Hot Hands" warmers, dental supplies and Christmas cards to be distributed to the homeless in D.C. Because, as written on the organization's website,"there are many people in our community that are less fortunate and do not have these essential things in their lives. No one should have to spend Christmas alone in the cold on the streets." Dec. 8, 2-5 p.m-Help write Christmas cards for the packages. Dec. 15, 3-4 p.m-Bring supplies or assemble the 1,000 care packages. Dec. 22, 1:30-4 p.m.- Deliver the Care Packages. All are welcome to participate. To register for the events, donate items or make a contribution, of which 100 percent will go to the program, not to administration and marketing expenses, visit www.barberafoundation.org. (File photo by Barbera Foundation of a previous Christmas Care Package Drive.)
Marine Corp Toys for Tots, Reston-Dulles Section, National Council of Negro Women, Inc. (RCNCNW)
The RCNCNW is supporting the Marine Corps Toys for Tots Drive. Individuals can bring new, unwrapped children's toys to the Bungalow Lakehouse, 46116 Lake Center Plaza, Sterling, Sunday, Dec. 9, 3:30- 6 p.m. where the Marines will collect the toys for distribution or contact Cypriana McCray, Pres. at ncnwrestondulles.org for additional drop-off information.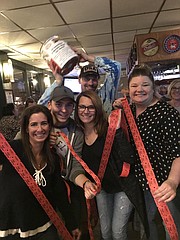 Wreaths Across America
On Thursday evening, Nov. 15, previous host of the Tommy Morning Show! on CBS 94.7 FRESH FM in Washington DC. Kelly Collins, Tommy McFly and Jen Richer gather with Lisa C. Merkel, Mayor Town of Herndon (center) and Jimmy Cirrito, owner of Jimmy's Old Town Tavern (back) during "A Gathering of Gratitude" to benefit a local "Wreaths Across America" campaign. Over 770 Veterans from the Reston/Herndon areas and beyond are buried at Chestnut Grove Cemetery in Herndon. It is an official "Wreaths Across America" site. Within one hour, the 50/50 raffle brought in $1,000. By night's end, the event raised a reported $1,347. If you are interested in purchasing a wreath for Veteran as general support or as a tribute to a Veteran you knew or volunteering to help distribute wreaths on Sat., Dec 10, visit www.herndonwomansclub.org for more information.
Blankets & Coats for Syrian Refuges, NOVA Relief Center
Fairfax County Board of Supervisors Chairman Sharon Bulova announced gently-used blankets and coats are being collected now through Dec. 8 and will be sent to refugees currently in Jordan. Reston Sites-Office of Supervisor Cathy Hudgins, North County Governmental Center, 1801 Cameron Glen Drive: The Church of Jesus Christ of Latter-day Saints, Reston building, 1515 Poplar Grove Dr. (Sundays only) and Congregation Beth Emeth 12523 Lawyers Road. novareliefcenter.org/