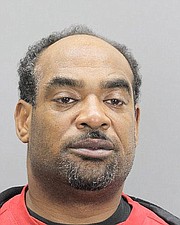 Fairfax County police have charged a 47-year-old Fairfax man with a sex crime against a teenage boy. He is Bruce Kenyatta Brown, and the alleged incident occurred last Wednesday, Nov. 14. According to police, officers responded at 5:22 p.m. to the 3100 block of Post Forest Drive in Fair Oaks.
They were dispatched for a report of disorderly conduct and, say police, officers from the Fair Oaks District Station allegedly "found Brown on top of a 13-year-old boy in the middle of the roadway. [They] removed Brown and learned the boy was walking through the apartment complex when Brown began running after him and tackled him in the roadway."
Once the teen was on the ground, say police, "Brown [allegedly] grabbed the boy's genital area several times before officers arrived and intervened." The victim received a minor injury, and Brown was taken to the Adult Detention Center and charged with aggravated sexual battery. He's currently being held without bond and has a Dec. 17 court date.