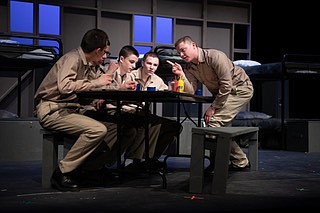 Langley High School's theater is getting ready to present its fall play, "Biloxi Blues," from Nov. 29 to Dec. 2. The comedy, written by Neil Simon, takes protagonist Eugene Jerome in his journey as he enlists in the U.S. army and trains for World War II in a drill camp in Biloxi, Mississippi. While training, Eugene meets many of the nice, not-so-nice, and downright crazy people that he comes to call his fellow recruits.
This comedic coming-of-age story explores themes of war, discrimination, and camaraderie that both students and adults can relate to. "Biloxi Blues," a story set in 1943, will be Langley High School's first fall play after years of performing musicals. Langley's Saxon Stage encourages community members to come see the play and enjoy the hilarious, emotional, and exciting story that awaits.
"Normally when doing plays, the story might get confusing, but I think this one will be really appealing to a lot of people, and everyone will be excited to see it," Emma Connolly, a member of the Saxon Stage publicity team, said. "I think [the play] is really relatable; the experiences they go through mentally during war are similar to what we go through at a different level, and maybe even what community members have gone through in their lives," Connolly said, encouraging locals to go see the show.
In addition to the show's relatable nature, "Biloxi Blues" is an emotionally provoking story with an array of complex characters, including six young recruits and a stern drill sergeant.

"My character is kind of sadistic, and he's really tough on those boys, but it's because he loves them; he doesn't want them to get killed and wants them to succeed," Mark Bosset, the actor who plays drill sergeant Toomey, said. Bosset looks forward to performing "Biloxi Blues" to show the teamwork that both students and community members can learn from. "Camaraderie is definitely a huge theme. The recruits have verbal fights and get into each other's head, but they learn that regardless of whether you disagree with someone, you have to be a band of brothers, or else you die," Bosset said.
"I think it's such a touching story, the older generation can kind of relive the younger part of their lives," Langley theater's stage manager Mary Kurbanov said. "It has a lot of teenage humor from the 40s, and it shows that ultimately, we can really learn from one another."