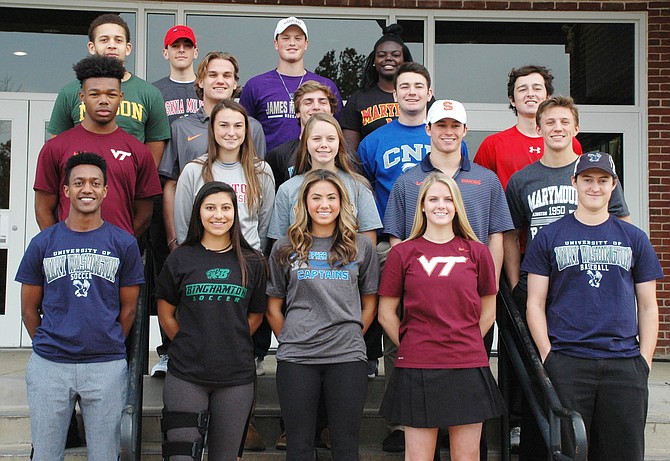 St. Paul VI Catholic High School in Fairfax has announced its first round of NCAA signees and other senior college commits. These student-athletes will continue their academic and athletic careers at the next level.
Bottom row, from left: Adoniyas Reynolds (Mary Washington Soccer), Maya Anand (Binghamton Soccer), Abby Pogreba (Christopher Newport Soccer), Riley Hayden (Virginia Tech Lacrosse), Nick Ortega (Mary Washington Baseball).
Second row, from left: Anthony Harris (Virginia Tech Basketball), Gretchen Bennett (Boston University Soccer), Olivia Mock (Westchester College Softball), Gavin Kline (Syracuse Lacrosse), John Barrie (Marymount Baseball).
Third Row: Josh Oduro (George Mason Basketball), Cortland Lawson (Tennessee Baseball), Jacob Angelus (Johns Hopkins Lacrosse), Joe Dickson (Christopher Newport Lacrosse), Ian McCarthy (Lynchburg Lacrosse).
Back Row: Logan "LT" Ancona (VMI Lacrosse), Nathan Paolozzi (James Madison Soccer), Ashley Owusu (Maryland Basketball).