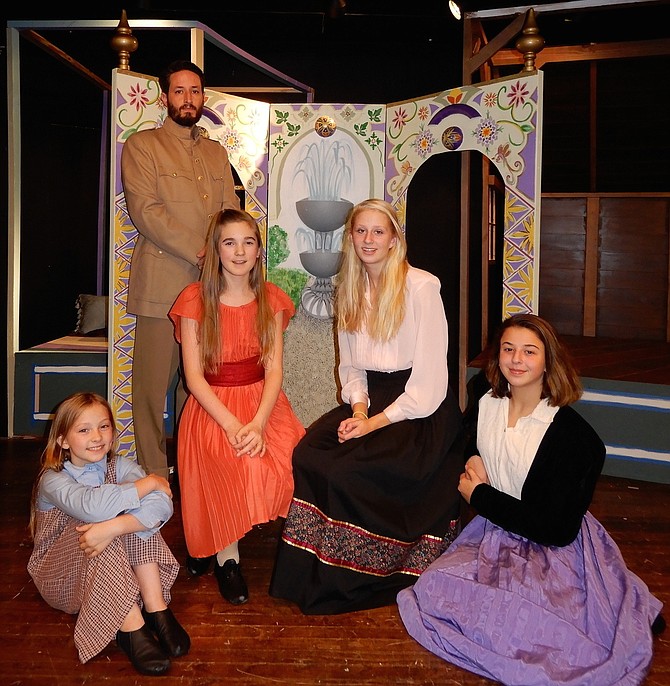 To Go
Friday, Nov. 30: Doors open at 6:30 p.m.; buffet dinner and show are at 7 p.m.;
Saturday, Dec. 1: Matinee at 2 p.m., and dinner and show at 7 p.m.;
Sunday, Dec. 2: Matinee at 2 p.m.
Truro Anglican Church, 10520 Main Street, Fairfax.
Tickets for matinee and evening performances only (without dinner) are adults, $15, and students, $10, and may be purchased at the door or online via www.fairfaxcityth.... Dinner-theater tickets are $35 and must be purchased online in advance.
Featuring a cast and crew of 20 in a classic tale that's been both a book and a movie, the City of Fairfax Theatre Co. presents "The Little Princess." And people may either attend just the show or have a meal, as well, during two dinner-theater performances. (See the "To Go" box for details).
The story's about Sarah Crewe, a young girl who's been living with her wealthy father in India and is sent to England for a proper education while he's away at sea.
"She has a wonderful imagination, and the other girls at the boarding school love her for brightening their lives," said Co-Producer Jessica Russo. "But the headmistress is not a kind woman. And when Sarah's father dies, she punishes Sarah by making her live in the attic and be a servant to her friends."
Russo said rehearsals are going smoothly, and she has a "great cast of girls, ages 8-17, plus a few adults. The older kids have taken the younger ones under their wing, and they all get along well. The scenes take place at the school and in Sarah's imagination, and we have an extensive set that's really magical. And the early 1900s school uniforms the girls wear are adorable.
"Our director, Jessica Dubish, has created a wonderful atmosphere of play and creativity for the kids," continued Russo. "The audience will like our talented, young actors – there's an energy from them that will make people smile. This show will get people in the mood for the holiday season and will present a message of hope, imagination and friendship."
PORTRAYING SARAH is seventh-grader Alyssa Kiffer. "At the beginning, she has everything, but isn't snobby," said Alyssa. "She's kind and generous to others. Then when she loses everything, she starts to lose hope in herself. But her friends help her gain confidence again. And she helps others worse off than herself and becomes generous again."
Alyssa said Sarah is always imagining things. "When something isn't going well for her, she pretends it's different, and she helps others pretend, too, to cheer them up," said Alyssa. "It's a fun role to play because she's friends with the other girls and connects with them. She's also a role model for me because everyone wants to be a person who always has a positive attitude toward others, no matter what."
She said it's challenging sometimes because she had to learn so many lines. "But it's also fun because, as the lead, you get to create character choices to show how your character changes over time," she explained. "You also get to illustrate the moral of the story – if you keep moving forward and have a positive outlook, your life may become better."
Calling the show both sad and funny, Alyssa said, "The audience will sometimes be on the edge of their seats, wondering what's going to happen and how things will turn out. And through our set and costumes, we're transforming the stage into different places to make people feel like they're in the early 1900s."
Greenbriar resident Brandon Moon plays Capt. Crewe, Sarah's father. "He's a widower who encourages imagination and creativity in his daughter," said Moon. "He's also adventurous, himself, and isn't afraid to throw all his money into a diamond-mine venture. But he's a good guy and the quintessential dad."
Excited to be part of this theater company, Moon said, "I like working with Alyssa and the other girls. It's my first role ever, so I get to explore a different side of myself. The play is about a girl and her father, and to be a part of that with my own daughter – [Gigi, portraying one of the schoolgirls] – is really special. My character is beloved, so it's nice to have people look at me with stars in their eyes. And it's fun to wear a uniform."
Moon said the audience will enjoy the play because "It's such a good message for girls coming of age. It's the idea that every girl is a little princess and has special things about her that need to be encouraged. Parents should definitely bring their children to this show."
HIS REAL-LIFE DAUGHTER, Gigi, a fourth-grader, plays Becky, a servant girl who becomes Sarah's friend. "Becky is terrified of the headmistress, Mess Minchin, who's really mean," said Gigi. "She tries to mind her own business, but she sometimes gets caught up in things and starts talking when she's not supposed to. She's friendly, obedient and nice and doesn't want to get in trouble."
Gigi likes her role because, she said, "I have this really cool British accent. I also like my costume – a boy's shirt with a plaid jumper over it. And it's fun because Becky's not supposed to talk to the other girls; but when Miss Minchin is out of the room, Becky gives huge speeches."
As for the show, Gigi said people will like all the characters' attitudes and how the girls react to Minchin. "They'll also enjoy the scenes that are really touching," she said. "And the set is so detailed – they did such a good job painting it."
Portraying Donald is Laurel Ridge Elementary sixth-grader Henry Counts. "When Sarah leaves the boarding school for a day, she meets a large family passing by on the street," he said. "And she and Donald, one of the children, become friends."
Describing Donald as awkward, Henry said he also "has no filters – he says whatever's on his mind. But he's goodhearted and wants to help Sarah. I like playing him because it's fun to be awkward onstage. And Donald gets excited a lot, so I get to be very animated."
Overall, said Henry, "It's a good story and the costumes are pretty and colorful. And the message is that it's OK to pretend sometimes."