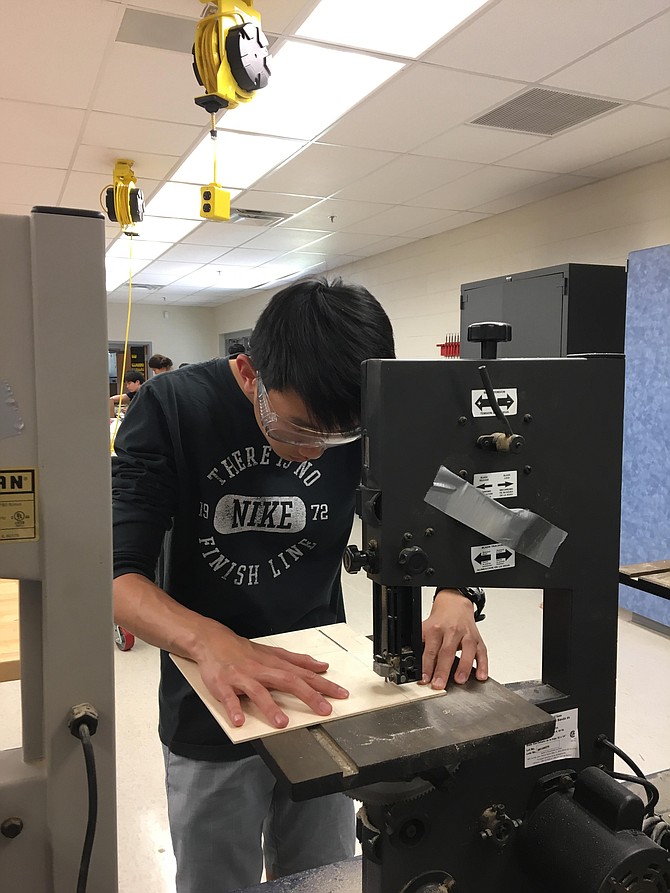 The Space Race may be history, but Herndon teenager Jason Chen insists that rocket science is still universally important. For people who can't quite wrap their heads around rocketry, Chen — a sophomore at Thomas Jefferson High School for Science and Technology (TJHSST) — created an award-worthy video to break down some of the concepts.
"Space just seems too far out of reach for so many people," Chen said. "It feels so far away and confusing, but if you break it down, it's truly fascinating. It's important to inspire people to get into aerospace, which I really believe is the future of humanity. We've explored the earth, so where do we go next? Up. My mission was to bring more light into the field, to show that the solar system and space isn't just for geniuses."
Chen's recent video about The Nozzle Theory proved award-worthy. He created it for the Fourth Annual Breakthrough Junior Challenge, an international competition for science aficionados between the ages of 13 and 18. Entrants were called to create compelling three-minute (or shorter) videos that both adequately demonstrated and simplified complex scientific concepts. More than 12,000 entered this year's contest and Chen was one of 15 finalists.
"I focused specifically on the nozzles of rocket engines," he said. "I thought this was the most interesting and the most visual part: if you've seen a rocket launch, then you've seen a nozzle. Maybe you just didn't know what you were looking at. Then I went more into the mechanics of how burning a fuel in a controlled explosion can help generate enough thrust to help propel a ship into space."
The Breakthrough Prize Foundation hosts this challenge to honor both leading and up-and-coming scientists, to develop global interest in science, and to spark innovation. A panel of professionals hand-selected the Breakthrough Junior Challenge finalists, and the Foundation then posted the 15 shortlisted videos on YouTube and Facebook. The ultimate winner was then determined by popular vote.
ON NOV. 4, 16-year-old Samay Godika of Boston, Mass., was announced the winner for his video on circadian rhythms.
Getting as far as he did was in itself rewarding, said Chen. He's grateful he got wind of a competition that served as the catalyst for him to create something significant.
"This competition's goal from the start was to share the excitement for STEM and urge those all around the world to share their ideas," Chen said. "Even if I, and the thousands of my peers, weren't selected as the final winner, it doesn't detract from the amazing things that we've all learned and accomplished. Just participating was one of the greatest experiences of my life, and I can give nothing but my deepest congratulations to Samay. His video was outstanding; I think his award was well-deserved. Plus, there's always next year."
Chen may have been astounded, but, people familiar with him weren't surprised.
"I'm not at all surprised about how well Jason has done though this competition," said Jon Baker, who was Chen's 7th grade History teacher at Rachel Carson Middle School in Herndon. "I'm sure there are many talented young people participating, but I can say with confidence that none of them are the equal of Jason Chen. During the year we were together, Jason stood out among his peers immediately even though he was on a team with many other high achieving, academically talented students. He is simply head and shoulders above the rest, and one of those people you meet just once in a lifetime — and maybe not even then."
Jason's passion for this particular field of science shows no sign of waning. Space first captured Chen's interest long before he started taking formal science classes in school.
"I remember being little and in a hotel room in Atlanta with my family one night," he said. "We'd been to the aquarium that day, which I'd found really interesting. Then, as we were watching TV, a channel came on about how the universe worked — physics and astrophysics broken down for the everyday Joe. It's the first time I remember wanting to be an astrophysicist. Then, soon after, when my dad bought me a book about the nine planets, I just couldn't get enough."
While many don't think too much about what lies beyond earth, Chen can't help but think about all there is to explore out there.
"One of the things that catches me is that we are so bogged down by what's happening in our lives," Chen said, "but, half our view is the sky, which is immensely vast. You can see light-years into the past just by looking at the stars."
As a TJHSST student, Chen has been able to dip his feet into a few different areas of science and technology. Still, he said, there's just something about rocket science.
"Right now, I'm taking Chemistry and Computer Science (CS)," he said. "CS has a certain allure at TJ, which makes sense because it's always good to have a CS background. In my experience with CS, though, it's easy to grasp the basics, but hard to master. At TJ, we get an entire period every day to go to clubs. I belong to the Aerospace Club, where we do UAV [coding for drones]. That's really applicable to rocketry because coding is required for a lot of satellites."
Chen is only at the start of his journey of scientific pursuits so, for now, Chen said his work for the Breakthrough Junior Challenge is his greatest scientific achievement.
"I submitted the video in late June, and then I was immediately thrust into a summer class that was really grinding and burdened my brain," Chen said. "I'd kind of forgotten about it until I saw I made the first cut, so I got so excited even though I knew I had to overcome 29 other great videos. Then, it was the beginning of the school year when they announced the second round of finalists. Even though it was a school day, I refreshed the Finalist page again and again and at exactly 2:20 p.m., I saw my name on the list of the final 15, and I really couldn't believe it. Because of it, there have been astronauts watching my videos. That's what is so unreal to me; all the amazing people who have seen my video is just incredible to me."
It may not take a rocket scientist to display kindness, but, a touch of empathy will propel anyone — even a genius — further than merit alone. Baker, the Rachel Carson teacher, said that's yet another reason that Chen is a likely candidate to change the world.
"Jason is genuinely concerned about the welfare of America, and about the welfare of our entire planet," Baker said. "These are qualities always deserving of praise, but never more so than at this time and place in our nation's history. I see an extremely bright future for Jason. Whether that be in the public eye or behind the scenes remains to be seen, but I think he's going to make a real difference in this world. He once told me he hopes to be a part of the first manned mission to Mars during the next decade, whether it be as an astronaut or a contributor on the ground. I have no doubt he can make this dream a reality."
CHEN INTENDS to explore as much of space as he can.
"I've already basically laid out what I want to do, and that would essentially be aerospace engineering," Chen said. "I see it like, the theorists come up with the theories, but the engineers are the people who really bring it back to people — the ones who have us using the technology. I'd love to work for a company that drives innovation, and of course I'd love to get up into space. I don't know why you wouldn't want to go into space. So, ideally, I'll be an engineer and NASA will bring me on board because of my engineering skills and contributions."