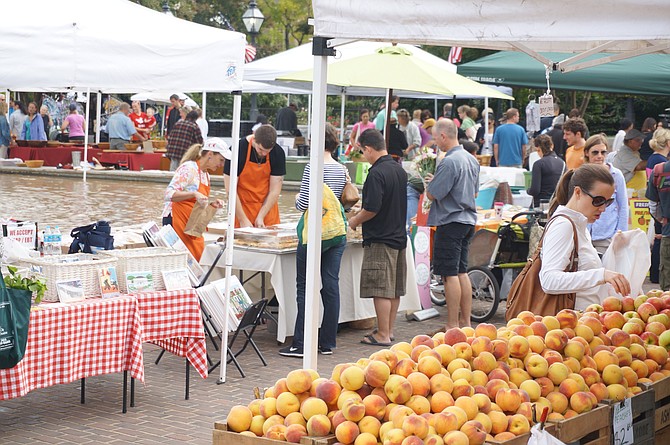 Alexandria, named the number one Best Value U.S. Travel Destination in 2018 by Money magazine and one of the South's Prettiest Cities 2018 by Southern Living, is reaping the rewards in tourism dollars. According to new data from the Virginia Tourism Corporation, visitor spending in Alexandria grew to a record $826 million last year, a $36 million increase from the previous year, as announced by Visit Alexandria at its annual meeting Sept. 24.
"This is a pivotal year for Alexandria as we face unprecedented competition," Visit Alexandria President and CEO Patricia Washington said in a statement. "This challenge unites us and energizes us to work smarter, relying on big data to drive our marketing decisions and to continue to improve the quality of experiences and programs our city has to offer."
Tax receipts from visitors, defined as people who travel from 50 or more miles to Alexandria, also rose from $26.6 million in 2016 to $27.4 million in 2017. This year, the city became the first jurisdiction in Virginia to charge a tax on Airbnb rentals, creating another source of visitor revenue for the city.
As visitor spending grew, the average hotel occupancy rate fell in fiscal year 2018 to 72.5 percent compared to 73 percent in 2017. Revenue per available room dropped to $111 from $113 the previous year. The hotel occupancy rate remains higher than the DC regional average of 71.3 percent.
Tourism initiatives still to come this year include the opening of the King Street waterfront park in October. The Portside in Old Town Festival will kick off the opening Oct. 12-14 with activities to include free tours of the tall ship Godspeed, a waterfront beer garden from Port City Brewing Company and a pop-up Pizzeria Paradiso.
The continuing series is part of the King Street Corridor Initiative, a programming, beautification and marketing campaign funded by the city and private partners. Additional programming at the new waterfront park will lead up to the summer 2019 arrival of Tall Ship Providence, a permanent attraction for the city.
Washington also emphasized the city as a destination for meetings, touting Alexandria's proximity to the nation's capital. She noted that the group will continue to look to regional visitors, who account for 43 percent of consumption taxes, as sources of visitor spending. When combined, regional and destination visitors pay 71 percent of consumption taxes in the city, which is based on 2016 Visa credit card data.
Looking ahead to 2019, Visit Alexandria will seek ways to tackle challenges arising from the opening of the new Wharf DC as a competing waterfront destination and the shutdown of Alexandria's Metro stations from Memorial Day to Labor Day 2019.
www.visitalexandriava.com