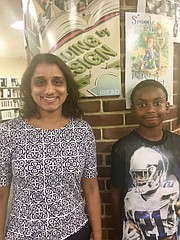 From student, Malcolm
I have been working with Ms. Renuka for two years. We meet at the library and read graphic novels and chapter books. One of my favorite books that we read is "Chicken Butt." It was funny. I have learned how to sound out words and how to pick out books at the library. I enjoy the Wright to Read events. I like going to IHOP and getting the reading challenge for winter break. I enjoyed reading at Readers Take the Stage, because it was fun. I'm a better reader and Ms. Renuka is a great tutor!
From the tutor/mentor, Renuka Bhaskar
I started volunteering with Wright to Read in 2014 and have been working with Malcolm for the last 2.5 years. I really enjoy my sessions with Malcolm, he is incredibly creative, smart, and just hilarious. Sometimes we write stories together and I'm always amazed at the imaginative twists and turns his stories take. We also enjoy reading in different accents, his British and Texan accents are my favorite.
It's been wonderful to see him work so hard and really improve in his reading. In our first session we read the book "Chicken Butt" (which he still claims is his favorite) but are now reading all kinds of books including chapter books and graphic novels.
We've really enjoyed some of the Wright to Read events, especially IHOP and the Readers Take the Stage Thanksgiving event last year. I'm very thankful for this opportunity and am grateful to Luisa [Luisa Reyes,
program director for Wright to Read] for all her help and book suggestions as well as to Malcolm and his mom for their dedication. I also wanted to thank the staff at Duncan Library for all of their help these past years. They've been wonderful to work with. I'm excited to continue to work with Malcolm!
Wright to Read, a program of The Campagna Center, is a member of the Alexandria Mentoring Partnership (AMP). AMP was created in 2006 to ensure that quality mentors and mentor programs are available for Alexandria's youth and young adults in need. To learn more about Wright to Read, visit: https://www.campagnacenter.org/programs/elementary-level or to learn more about AMP, visit: http://www.alexandriava.gov/Mentoring.