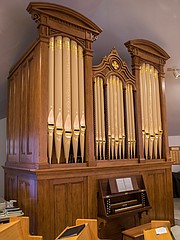 On Nov. 1, 1868, Episcopalians from a small dairy-farm community in Herndon met to worship and give thanks on All Saints' Sunday. That service was led by a school teacher and licensed Episcopal lay reader and was the first recorded liturgy of Herndon's St. Timothy's Episcopal Church. Members eventually erected their first church edifice in Herndon, now the Masonic Lodge at the corner of Elden and Grace Streets, and consecrated it in June 1881.
On Nov. 4, 2018, at 4 p.m., St. Timothy's will kick off its 150th year celebration with the rededication of their refurbished 150-year-old Tracker pipe organ with a special concert by the renowned organist, Dr. Wayne L. Wold. The evening continues with All Saints' Day Evensong with a reception to follow. A traditional service in the Episcopal Church, Evensong is a contemplative service sung at the close of the day. The service will be sung in its entirety by the choir of St. Timothy's.
The community is warmly invited to participate in this service as St. Timothy's gives thanks on this very special anniversary. For 150 years, St. Timothy's has been an active participant in, and a pillar of, the Herndon community, providing a strong tradition of area involvement and outreach. For more information, call St. Timothy's Episcopal Church Monday through Thursday, 10 a.m. - 6 p.m., at 703-437-3790, or visit www.saint-timothys.org for details about all the services. Additional information about the church and pipe organ histories is also available on the website.