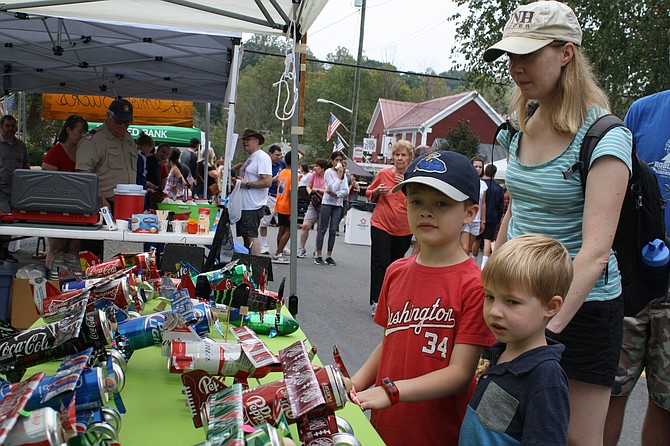 Clifton — Public transportation and the Town of Clifton are rarely used in the same sentence except for the Clifton Day Festival where the Virginia Railway Express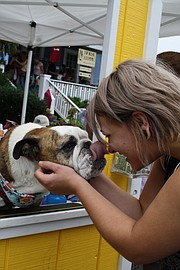 shuttled people in from Manassas from the west and Springfield from the east.
Springfield resident Jerred Lazar rode the train with sons Gunner and Camden. "The kids are obsessed with trains, our whole basement is just one big train set," he said. Once inside the cars, the children headed straight for the second level window seats.
Curt and Kathy Donnel jumped on at the Rolling Road station also. They saw it as an option to get to their first Clifton Day. "I said, 'hey let's take the train,'" Curt Donnel said.
When the train pulled into Clifton, the clouds parted and the heat rose for a warm fall festival day. The main streets in Clifton were off limits to traffic and shuttles were operating from remote parking lots. The streets were lined with booths, stages and food vendors and a bulldog kissing booth. Miss Bea was the main attraction in the bulldog tent, raising one dollar a kiss for a bulldog rescue group.
The Clifton Betterment Association puts on the festival each year, and it is a fundraiser for various groups in Clifton such as the Boy Scouts, churches, the Lions Club, and the Masons. The town residents volunteer to run the activities. "That's what makes this happen," said Kathy Hertz, the chairperson for this year's festival. She moved to Clifton in 2001 just before that year's festival and participated year after year.
This year, the Judge's Award went to Liz Cragg and Hadley Harrison of Buttercup Farm Furniture for their efforts to use reclaimed barn wood to make furniture – a trend with the eco-friendly population. Both Cragg and Harrison are teachers at Union Mill Elementary School and do the furniture work at night and on the weekends, building television stands, stand-up mirrors, and tables. "We don't want anything to go to waste," said Harrison.
Strumming the six string guitar on the Ayre Square Acoustic Stage was Sarah Bennett Swanner, a Paul VI High School and George Mason University alumnae who now is a regular part of the entertainment at the Main Street Pub. She hammered out Willie Nelson's "On the Road Again," next to the LOVE sculpture which was on loan from the Virginia Department of Tourism. According to Hertz, the town was picked out of applicants to have the LOVE sculpture so it was more than just a spectacle. Many couples posed in front of it for pictures.
Other musicians that played throughout the day were Scott Kurt Band, Jumpin' Juniper, The Colin Thompson Band with Josh Crowly, Soul Crackers, the Duo of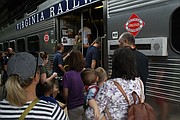 Hudson/Watson, and the Green Leaf Society. Springfield Supervisor Pat Herrity and Virginia Senator George Barker had tents at the festival as well.