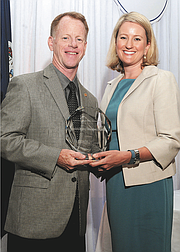 Springfield-based Interstate announced that this summer it passed a major milestone – its 750,000th move – since the company started 75 years ago.
Interstate is a $100-million global enterprise comprising moving and storage, employee relocation services, and supply chain management logistics support for corporations, government as well as individual customers. The company has been consistently ranked among the top moving companies in the U.S.
"Making more than 750,000 moves and hitting the 75-year mark are two very exciting milestones," said Bud Morrissette, President and CEO. "We are grateful to all of the customers who continue to put their trust in us every day. "Reflecting back, there are so many experiences we have shared with our customers in taking them to their next step, it really is mind-boggling what we have been fortunate enough to be part of…we are close to having moved it all," Morrissette said.
To celebrate their milestones in business, Interstate is presenting a collection of stories detailing the company's growth, their community involvement and important events of the past 75 years on the site "75movingtales.com".
"A quick glance at the stories demonstrates a tenured company that handles everything from the most delicate and priceless objects to treasured family belongings anywhere in the world with know-how and care," said Morrissette. "Our goal is to share the unusual experiences our company has been lucky enough to be a part of."