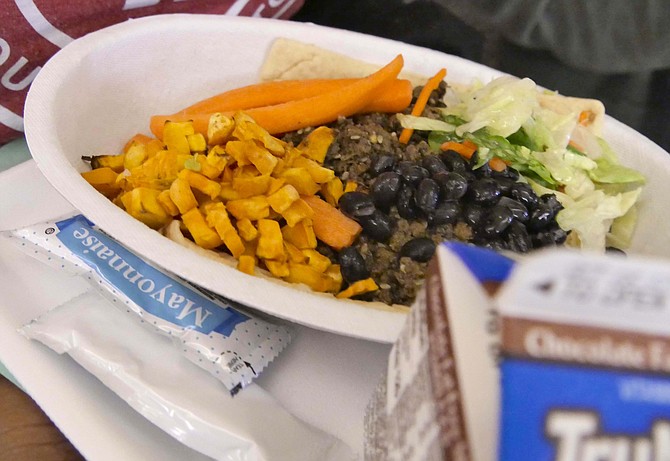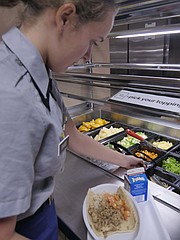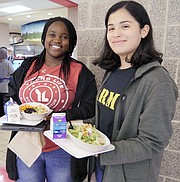 The bell rings for 12:30 p.m. lunch at T.C. Williams High School and within minutes the new Café+Teria food line is packed with hungry students. Anwar Benlkorthi picks up his molded fiber compostable tray and chooses a wrap. "Some chicken please." Next Anwar chooses rice and layers black beans on the top plus some cheese and finally lettuce. Anwar says he eats in this line two times a week, with his other favorite the chicken burger at Tita Grill, two lines down.
Robyn Douglas, school nutrition coordinator, says today is the Caribbean-theme lunch. "We also have Asian, Mexican, barbecue, Mediterranean and Indian. Every week we have two themes." What these "build-your-own" lunch entrées have in common is the use of high quality proteins and fresh vegetables and fruits. Many of the vegetables are the same in the dishes, but just seasoned differently, so it lets the staff prepare at the beginning of the week.
Douglas says Café+Teria started the first day of school this year. "The first week we started with 100 students; now it has tripled to 300 and is on track with the popular pizza and grill lines."
Lucy Ruetiman, field operations specialist for secondary schools, says, "I notice a lot of teachers over there. I think they like this option. And it is the only line that has a vegan choice."
Caitlin Davies, in her Class B Junior ROTC uniform, explains that it is kind of like Chipotle — a wrap and you fill it with rice, chicken, beans and lettuce. "I usually eat here unless I bring my lunch. It is something different and it is good actually."
Café+Teria is the result of a survey sent out by ACPS Department of School and Nutrition Services to students in grades 7-10 in January to get feedback on their experience with school dining. The survey was followed by focus groups with students and then taste tests. Douglas says, "in order to qualify the food had to meet a 75 perfect threshold of approval."
Nicole Rosario-Flores loads up her bowl with beef, lettuce and beans. "I always eat here."
Her friend, Devine Nzica, has chosen sweet potatoes for her bowl. She says, "I can add whatever I want; you aren't limited by what they give you. And it's really good."
Douglas says although fresh ingredients could cost more, that they have been able to keep costs down by negotiating for the chicken, beef and cheese to be purchased system-wide across all Alexandria public schools. She adds that all the meats and the paneer are purchased locally in either Alexandria or Sterling and have minimal ingredients, no additives.
Ruetiman adds they plan to have pop-up Café+Teria at the secondary schools once a month as well — "like a little food truck."
What has been the most popular so far? "Hard to say, but we've had a lot of success with curry," Douglas says.
One student commented, "I didn't even know I was eating Indian."
Ruetiman says, "A lot of people don't read signs. But it's a good way to get them in the habit of eating healthy food without even knowing it."
But you can't win them all over so easily. One student waits in line for a while then declares, "I want a peanut butter and jelly."