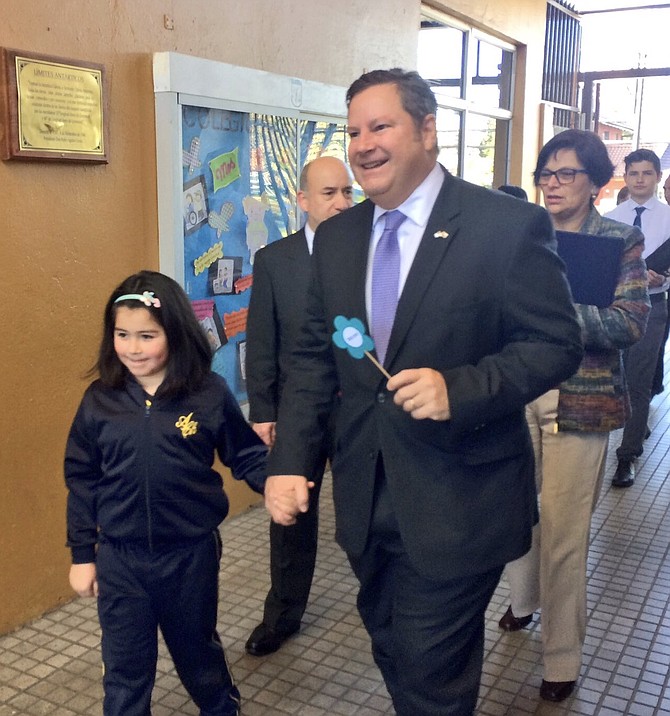 In a way, Mike Hammer has been preparing for his career as a diplomat all his life. He was born in Washington, D.C., then lived in five countries in his first 14 years. He was bilingual from the beginning: his mother spoke to him in Spanish, and his father, English.
This week he leaves to take up the post as U.S. ambassador to the Democratic Republic of Congo.
It seems like a tough place to go. As Hammer said in his statement for his confirmation hearing before the Senate Committee on Foreign Relations: "After two coups, more than 30 years of dictatorship under Mobutu, a regional war that left millions dead, and President Joseph Kabila's 17 years in power, the DRC is on the cusp of its first peaceful, democratic transition since independence. In holding these elections on Dec. 23, President Kabila can achieve a significant legacy that advances the interests of his country and delivers an opportunity for a more peaceful and prosperous future for the Congolese people."
Hammer is enthusiastic.
"This is the kind of assignment [diplomats] relish," Hammer said. "The U.S. can make a difference. We can play a role, hopefully, helping the Congolese people realize their potential."
Hammer said his family's history motivated him to serve the United States through diplomacy. "As a youth," he said. "I liked the travel and being exposed to different cultures."
His father worked with international labor movements mostly in Central and South America and he learned to appreciate the ideal of community service from him. He was also deeply affected by the murder of his father in El Salvador while he [Mike] was a young teenager.
"I knew then that I wanted to become an American diplomat, and my mother unequivocally supported my dream despite the risks inherent in our profession," Hammer said.
Hammer attended Landon School in Bethesda, received his bachelor's degree from Georgetown University's Edmund A. Walsh School of Foreign Service and master's degrees from the Fletcher School of Law and Diplomacy at Tufts University and the National Defense University.
While at Tufts, he met his wife Margret Bjorgulfsdottir, who is from Iceland. They have three children, all who attended Winston Churchill High School. His youngest daughter is a senior there this year.
He is fluent in Spanish, French, and Icelandic, and speaks a bit of Portuguese and Danish, he said.
"Communication is key," he said. "Diplomatic relations are about people relations. It's a mutual respect."
Generally, he said, the world admires the people of the United States for their openness and democracy.
He believes people need security, opportunities and education.
"If you have those three you have what you need," he said.
Hammer said he is happy to have done a lot of work in public affairs — he was also ambassador to Chile and served in Bolivia, Norway, Iceland, and Denmark and worked under four presidents.
He encourages others to consider diplomacy as a career.
It's important to bring the best of the best into the service if the United States is to help the people of other countries and look out for American citizens, businesses and foreign policy, he said.
For more information about a career with the State Department, visit careers.state.gov.