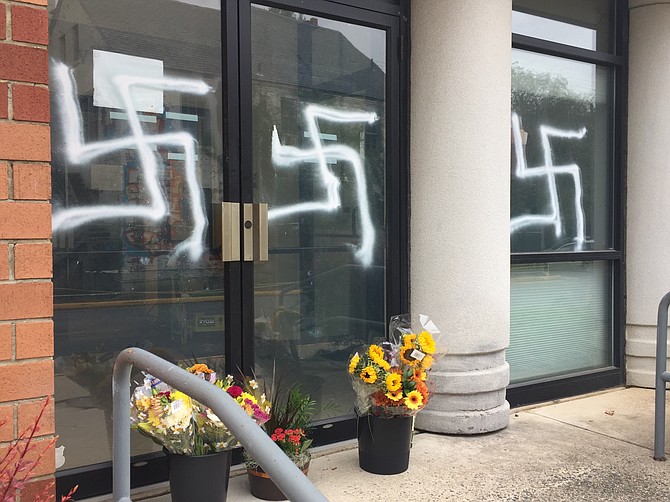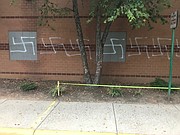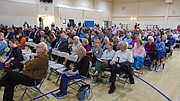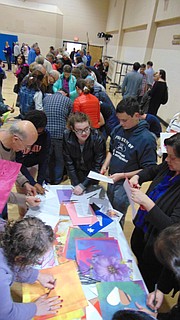 On Saturday, Oct. 6 around 4:30 a.m., a vandal spray-painted 19 swastikas on the exterior walls of the Jewish Community Center of Northern Virginia in Fairfax — sending shock waves that reverberated throughout the tight-knit community and beyond. In the week that has passed, the graffiti has been removed from the building on Little River Turnpike, and the outpouring of support from neighbors, elected officials, clergy and people from around the country has been overwhelming.
Undaunted by the hatred, the incident caused the community to unite. On Sunday, Oct. 14, about 400 people packed the "J" (JCCNV) at a "comm-UNITY" gathering to affirm peace and unity. A dozen Federal, state and local elected officials as well as religious leaders offered messages of love; musicians sang inspirational songs, and the attendees collaborated on a group art project. It was a tree trunk and branches and people traced their hands, cut them out, and placed them on the tree.
"We felt violated," said David Yaffe, president of the Board of JCCNV. "This was not the first time; the JCC had been violated before. This vandalism is a reminder that there are people in this area who share neither community values nor the American dream of opportunity and diversity and inclusion."
As a result of the vandalism, for four days he said they received phone calls from all over the country; as well as Facebook and other social media posts, which were "overwhelmingly supportive."
Also offering words of support at the service were Pastor Dan Roschke of Bethlehem Lutheran Church; Hurunnessa Fariad of the ADAMS Center; Rabbi Brett Isserow of Beth El Hebrew Congregation; and Gil Preuss of the Jewish Federation of Greater Washington. Gov. Ralph Northam and U.S. Sen. Mark Warner sent messages of support as well.
According to Sharon Bulova, chairman of the Board of Supervisors: "I love it that so many faiths are here to express support, and really that is what defines us in Fairfax County," she said. "We are a community that supports each other. We are a community that appreciates and celebrates each other — our different faiths, our different cultures; and we come together when one of us has been hurt. When one of us has been hurt or damaged, you're damaging all of us … This only makes us stronger."
Added U.S. Rep. Gerry Connolly (D-11): "I'm proud of our community today because one hater is not going to divide this community," he said. "In this community (hatred) will never prevail … Today all of us say 'I am a Jew'; all of us say 'I am a Muslim. I am an immigrant.' Because I will not let you divide us — your hatred, your bigotry, your fear must go back where they came from."
He continued: "So, as we look with horror and disdain at the 19 swastikas that were painted on this building or the defilement at the United Church of Christ, we know that this community has risen up in its revulsion and in its desire to express communion with those who were affected — because we were all affected. So, fear won't ever prevail in this community as long as we stand as one. Nobody will divide us. And ultimately, love and compassion and caring and community will overtake hatred and fear."

Del. Eileen Filler-Corn (D-41), who read a statement from U.S. Sen. Tim Kaine, said it was shocking and very disturbing seeing 19 swastikas across the "J." "It's a center in our community that's welcoming and inclusive and all about diversity," she said. "The hate that we saw was not representative of our community."